The stage is set for an English World Champion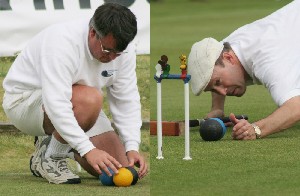 Chris Clarke and Stephen Mulliner in Play (Photo: Dave Kibble)
by Dave Kibble
9th February 2008 (
World Championship
)
Later today two Englishmen, Chris Clarke (ranked world No.3) and Stephen Mulliner (No.6), will join in battle for a best-of-five final to decide the 2008 World Association Croquet Championship. Top players Reg Bamford and Robert Fulford lost earlier in the hotly-contested knockout stage of the tournament.
Chris married top woman croquet player Jenny Williams on January 30th.
Chris and Stephen's head-to-head since 1988 gives Stephen the narrowest of leads at 43 games to 42, though Chris won the last time they met (the block stage of the British Open Championship in 2006).
Full details and coverage of the 2008 World Championship is provided on the tournament website www.worldcroquet2008.com/
Several leading players provided gripping moment-by-moment commentary of the knockout section, which was read eagerly by many players around the world. The commentary will resume when play starts at 9AM (8PM GMT) and can be found at worldcroquet2008.com/commentary.html
Samir Patel reported on the run-up to this exciting final day.
---