Johannesburg Country Club Tournament - 2008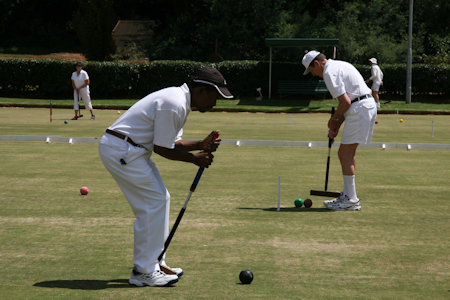 Victor Dladla with Dick Knapp nearby and Mary Knapp in the background (Photo: George Noble)
by George Noble at Johannesburg
28/02/08 2008 (
International
)
The highly successful tournament held at the Country Club Johannesburg from 16 to 24 February involved 28 players of whom 20 were from the UK. Flat, speedy lawns (about 12 Plummers) and firm but fair hoops set by master baker Hans van Noord - he also supplied the biscuits. The able managers, Chris Bennett and Esther Jones invited agony for themselves by allowing the players to suggest the events. Consequently there were five events and gloomy predictions that the tournament would not finish; especially since they were all run as blocks. A further complication was that most players were either incapable or unwilling to play more than three games a day in the hot conditions and many were content with two. The outstanding exception to this was Paul Swaffield who got through five on the penultimate day. Nevertheless, by the time of the tournament dinner on Sunday evening (enlivened by a fly past from the International Space Station as an aperitif) the manager convincingly announced that all the events had clear winners:
| | | |
| --- | --- | --- |
| A Class Singles | Andrew Winn | Runner up Dick Knapp |
| B Class Singles | Michael Town | Runner up Mary Knapp |
| Handicap Singles | Bob Stephens | Runner up Esther Jones |
| A Class Doubles | David Mumford & Michael Town | Runners up Dick & Mary Knapp |
| Handicap Doubles | Tim Dutton & Mary Knapp | Runners up George Noble & Sue Strong |
The sharp-eyed will notice a lot of knappery among the winners and the Woking duo of David Mumford and Mike Town were also in fine form. Andrew Winn did particularly well to win the A block, considering that his fangled ozzie mallet broke and he had to play with a borrowed one. The best local players were Meshack Mazibuko and Victor Dladla - both playing off a 1 handicap. Both slightly underperformed but Meshack reached the semi-finals of the B Singles.
Almost all the visitors were able to stay in the first class lodge at the Country Club and spent most of their time in the club, which is rather like a relaxed Hurlingham. After so much time in such a colonial cocoon, it was necessary to attempt to see what may be closer to the real South Africa so, thanks to local member Werner Kirchhoff who organised a sobering and uplifting visit to Soweto to see the Nelson Mandela house and the Hector Pieterson museum. There was also time for a quick squint at a gold mine.
Few of us would go to South Africa only to play croquet so, before the tournament, one group camped (posh style) in the Kruger National Park; others went to the Pilansberg National Park (much nearer to Johannesburg) and the financially ambitious went to the Victoria Falls in Zimbabwe to become millionaires.
---