CA Juniors retain Salver for CA Ireland Match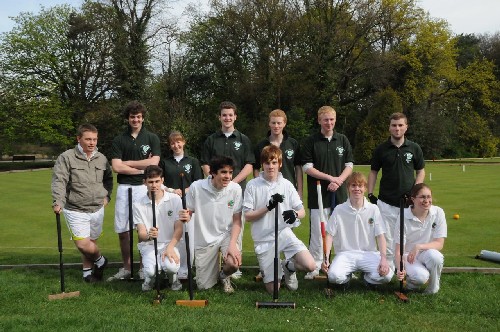 CA v CAI juniors 2008 (Photo: Peter Johnston)
by Ian Vincent at Nottingham
26-27th April 2008 (
Other News
)
Day 1 of the CA v CAI Juniors match hosted by Nottingham was Golf Croquet, with doubles in the morning followed by singles after lunch. With 6 members in each team, 9 doubles games were played before lunch when the score was a creditable 5:4 to the CA, with the hoop 3 being contested as the tie-break in no less than five of them.
Since the last game before lunch was played under the eyes of everyone on Lawn 1 because all the other games had been completed, it was delightful to watch Louise Ireson from Ireland run a long 13th hoop to
win that match. It was evident to those who saw the first tournament in Ireland last year that the Irish team had improved their standard of play quite considerably.
In the afternoon, competitors were placed in one of two blocks and then all played all. Both teams had wins in each round and every player had a least one win. At the end of the day England had won 18 matches and Ireland 9.
The 2nd day was Association Croquet, again with doubles in the morning and singles after lunch. Once more, lawn one provided the most interesting lunchtime finish, as Jack Wicks's attempted pegout after a straight rover peel of one of his opponents missed, sending his opponent's ball off the lawn and leaving his own a yard from the peg. The Irish promptly hit-in and pegged out Jack, leaving both their partners with a fair way to go. Robert Wilkinson got the better of the three-ball ending to win by three.
A visit to Nottingham Castle had furnished the visitors with green hats to match their team shirts, but fortunately they were needed more to keep off the sun than the threatened rain. That started just before the end of the last singles game and an hour later the lawns were under water!
At the presentation, Patricia Duke-Cox was thanked for organising the event, various parents for providing transport and accommodation, and Gordon Hopewell for the sausage casserole.
Results
Golf Croquet (Level Play; Games Counted as One Match Point)
William Gee & Rachel Row bt Andrew Murphy and Fiachra Carroll 7-4
Robert Wilkinson & Jacob Carr bt Danny Johnston & Louise Ireson 7-0
Jack Wicks & James Carr lost to Kieran Murphy & Ben Harris 7-6
Robert & Jacob bt Kieran & Ben 7-5
Jack & James lost to Andrew & Fiachra 7-6
William & Rachael bt Danny & Louise 7-0
Jack & James lost to Danny & Louise 7-6
William & Rachael bt Kieran & Ben 7-6
Robert & Jacob lost to Andrew & Fiachra 7-6
William bt Andrew 7-6
James lost to Fiachra 7-3
Jacob bt Danny 7-2
Rachel bt Louise 7-5
Jack bt Kieran 7-1
Robert lost to Ben 7-2
Jacob bt Kieran 7-5
Robert bt Louise 7-3
Jack bt Andrew 7-6
James lost to Ben 7-2
William lost to Danny 7-6
Rachel bt Fiachra 7-2
Jack bt Danny 7-5
Rachel bt Ben 7-6
William bt Kieran 7-1
Robert lost to Fiachra 7-5
Jacob bt Andrew 7-5
James bt Louise 7-5
Association Croquet (Handicap Play; Games Counted as 2 Match Points)
Jack & Robert bt Kieran & Fiachra +3
Jacob & James bt Ben & Louise +10(t)
William & Rachel lost to Danny & Andrew +2(t)
Robert bt Ben +6
Jacob bt Danny +23
William lost to Fiachra +25
Rachel bt Kieran +14
James bt Andrew +4(t)
Overall Result
CA 30 CAI 13
---