Peels Winners Show Off Trophies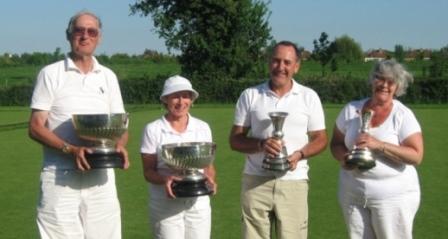 Peels Winners: Nigel Graves, Pauline Davey, Nelson Morrow and Sue Strong (Photo: Julian Straw)
by Julian Straw at Surbiton
12 May 2008 (
AC - Handicap
)
Nigel Graves, Pauline Davey, Nelson Morrow and Sue Strong emerged victorious at the 110th Peel Memorial Tournament held from 8 - 11 May 2008.
The first day dealt the manager a challenging hand of nine pairs for the Mixed Doubles. Deciding to begin with three rounds of a Swiss, he hoped for two finalists for a crowd pleasing play-off on the Sunday. However, the day produced only one pair with three wins, who were duly declared the winners. First spoils to Nelson Morrow (-0.5) and Sue Strong (11).
The Men's event, with an entry of fourteen, was played as an eight-round Swiss over the next three days. Nigel Graves (8) was drawn at the top of the list, and clearly felt at home there. Despite being provided a stream of strong opponents he refused to budge, ending with seven wins out of eight. He was chased all the way by Nick Furse (7) who was defeated only by Nigel.
The Ladies' event attracted fewer entries, and an American block format was used, conveniently with seven games. This event was won by an even narrower margin, the winner having beaten the second place by +1T. Congratulations to Pauline Davey (5), and better luck next time for Sue Strong.
Someone mentioned that early May in Surbiton was hotter than in Marrakech. Those that chose to enter the Peels this year were rewarded not only with almost uninterrupted warm sunshine, but fast, flat lawns, firm hoops and fine food. As temperatures climbed towards 80F following a wet April, the lawns at Surbiton can seldom have looked or played better.
The Peel Memorials deserve to be popular. The silverware is very fine having been purchased through subscription by associates at the time. The format provides opportunities in singles and doubles for both expert and beginner. Let's hope that if it travels to Southport next year as planned even more will enjoy it.
---