Howard Bowron won Middlesbrough's first CA Handicap Tournament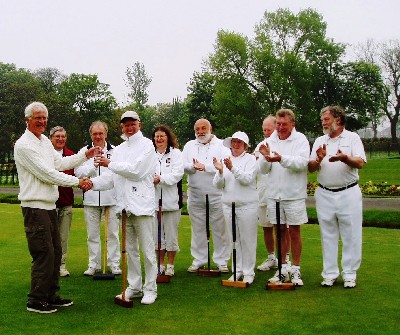 by Charles Waterfield at 10-11 May
21st May 2008 (
AC - Handicap
)
The Boro's first official CA handicap tournament was held at Albert Park on May 10/11th. The competitors came from various other clubs in the North and East Midlands, with one player from MCC. The final victor was Howard Bowron, with Patricia Duke-Cox a close runner up.
Phil Errington (3), Belsay Hall
David Turner (5), Tyneside
Roger Staples (7), Middlesbrough
Amanda Hames-Keward (7), Nottingham
Nigel Hames-Keward (8), Nottingham
Eugene Brady (10), Auckland
Patricia Duke-Cox (11), Woodhall Spa
Howard Bowron (18), Penrith & North Lakes
The format was two blocks of 4 on Day 1; the results from this generating two further blocks for the next day. Time-limits of 2.5 hours caused very few problems, although times were increased slightly for the Sunday games. Geoff Taylor managed the event and Charles was referee/dogsbody. Some highlights included Patricia (peg & peg) croqueting oppo into the distance, for extra 'safety', but sending him off the lawn in the process. Also a splendid 2 back peel by Roger from at least 8 yards with a roll shot - peelee sticking in the jaws only to be cannoned through by the following-on SB. We were also entertained by watching just how a garage service-man 'breaks into' a club member's vehicle in order to release car and house keys!
After the Saturday, Patricia and David were both on three wins. The next day Patricia added one more, David fell away and Howard added two vital victories, bringing him level in games with Patricia. On 'who-beat-who', Howard was the overall winner.
Full Results
Howard beat Eugene (+2), Patricia (+19), Roger (+5), Nigel (+11)
Patricia beat Phil (+17), Amanda (+24), Eugene (+3), David (+5)
David beat Roger (+12), Nigel (+13), Howard (+9)
Roger beat Phil (+17), Amanda (+12), Nigel (+12)
Eugene beat Amanda (+25), David (+10)
Amanda beat Phil (+15), Nigel (+5)
Nigel beat Phil (+15)
Phil beat Eugene (+9)
---