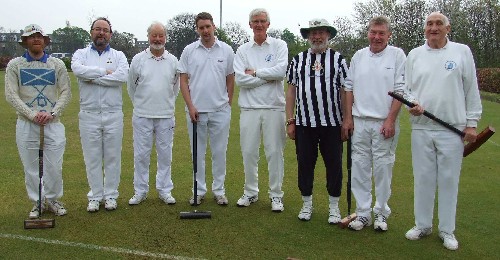 by Charles Waterfield
28th May 2008 (
AC
)
This year it was the turn of Croquet North to host a visiting SCA team from North of the Border for a two day match for the Scottish & Newcastle (beer pump) Trophy. The (advanced rules) format chosen was as last year in Edinburgh: everyone played in three doubles matches, each partnering every other team member and a variety of singles matches to achieve a result. Time limits were 2.75 hours. Bruce Rannie, Derek & Sheila Watts looked after all the arrangements most efficiently, so that the weekend was a friendly and sociable occasion as well as providing excellent croquet on Tyneside's lawns.
The Northerners
Charles Waterfield (.5), Peter McDermott (1.5), Phil Errington (3) and David Turner (5).
The Scots
David Appleton (2), James Hopgood (2.5), Fergus McInnes (4.5) and Allan Hawke (6)
The Results
(CN names first):
Doubles
Charles & David T beat David A & Allan 24-12(T)
Peter & Phil beat James & Fergus 23-16(T)
Charles & Phil beat David A & Fergus +7
Peter & David T lost to James & Allan 19-23(T)
Charles & Peter beat David A & James +23
Phil & David T lost to Fergus & Allan -16
Singles
Charles Waterfield beat James Hopgood +17
Peter McDermott lost to David Appleton -14
Phil Errington beat Allan Hawke +15
David Turner lost to Fergus McInnes -12
Charles Waterfield beat David Appleton +15
Peter McDermott beat James Hopgood 22-14(T)
Phil Errington beat Fergus McInnes 17-11(T)
David Turner beat Allan Hawke 23-22(T)
Croquet North won by 10 games to 4, so the trophy returns to the North.
See the SCA website for more www.scottishcroquet.org.uk/2008/CN2008.htm