The "Sue Mackay" Inter-Counties Report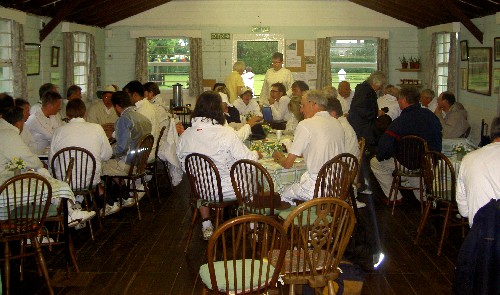 Rain Stopped Play! (Photo: Chris Constable)
by Sue Mackay
29th May 2008 (
AC - Championships
)
Somerset (code letter Z for Zummerset) won the 2008 Inter Counties Championship, though their team of David Goacher (captain), Kristian Chambers, Ed Duckworth, Marcus Evans, Roger Jenkins and Roger Tribe bore a startling resemblance to last year's Avon team. Somerset tried to enter a team in the second division this year, but somewhat controversially the Tournament Committee decided that it was going to adopt the county definitions of the Association of British Counties and that, as Avon no longer existed, a Somerset team would be allowed to play in the first division with all those who had previously played for Avon being eligible to play for Somerset.
Suffolk won the second division trophy. Their team of Steve Comish (captain), Mark Avery, Phil Eardley, Sue Edwards, Chris Farthing, Martin French and Martin Leach had a nail biting wait at the end of play for news to come through from Compton that Northumberland had beaten Hertfordshire 3-0. Suffolk and Hertfordshire thus finished on 7 match wins each, but Suffolk won two more games. At the start of the final day some six teams had a chance of the final promotion spot, but Northumberland recovered from a shaky start to return to the first division next year. Bedfordshire also rallied on the final day to lift themselves from bottom place, leaving Kent to win the wooden spoon with 3 match wins, surely the highest number of wins for the team in last place for many years.
Things were just as exciting for the final relegation place. Yorkshire sadly did not win a single match, and after surviving in the first division for several years they were certain to be relegated at the start of the final day. So were Middlesex, who had only managed one win, and that against Yorkshire. The final relegation place was seemingly between Glamorgan and Dorset, on 3 wins apiece going in to the final match. Although Glamorgan had a better game count, their final match was against Surrey, whereas Dorset had to play Yorkshire. Dorset duly won 3-0, only to see Glamorgan keep themselves out of the relegation zone by beating Surrey 2-1. David Walters clinched the match by pegging out from the far side of rover, but those who could not see whether the balls hit could tell from Ian Burridge's leap in the air as he watched the peg. Meanwhile Sussex, who must have thought themselves safe fifth from bottom, suddenly found themselves losing on all lawns against Middlesex. As Dayal Gunasekera pegged out in one of the last games to finish there was a huge cheer from the watching Dorset team. The Southwick spectators seemed genuinely amazed that this actually condemned Sussex to the second division next season.
Nottinghamshire, who had won the trophy for the past three years, got off to a disastrous start to the defence of their title by losing 0-3 to Essex, and this despite Robert Fulford arriving to play at Southwick by mistake and having to zoom over to Compton. Somerset, by contrast, won all their matches on the first two days. On Bank Holiday Monday, however, torrential overnight rain meant that the Southwick lawns were flooded, with Lawn 8 resembling a lake and being unplayable all day. Manager Chris Williams had cleverly arranged to be at Compton, where the lawns drain much better, leaving Bill Arliss with the nightmare task of trying to get the morning games played. It was decided that the first round of games at Southwick should be played as 14 point games with 1.5 hour time limits. This enabled the tournament to get back on track, but it did not suit Somerset, who had their only loss of the tournament to Nottinghamshire. Mind you, on the first day we were treated to the unusual sight of David Goacher playing speed croquet, as he wanted to finish his afternoon game by 3pm to watch Bristol City try to reach the Premiership - he made it with five minutes to spare!
By the start of the last day there was still everything to play for. Somerset had 8 wins but had a bye in the last round, so could only get 9 wins, while Cheshire could match 9 wins with a better game total. Cheshire beat Dorset to move to 8 wins at lunch, but Somerset moved on to 9 wins by beating Middlesex. The third game was remarkable in that Marcus Evans gained revenge on his partner Roger Tribe for leaving him to play a game on his own last year. This year it was Marcus who had to go home early, leaving Roger to play on his own against Phil Cordingley and Nigel Polhill. A fascinating game ensued, in which Roger achieved 7 of the 12 necessary peels on his partner ball, then went round and pegged out as time was called to win +3T.
Everything thus hinged on the final match on lawns 1-3 between Cheshire and Nottinghamshire. Cheshire only needed to win 2-1 to take the title, and the Somerset team could only watch anxiously from the club house. Ian Lines started out well but broke down at Hoop 4, allowing James Death an easy break followed by a triple from Patrick Hort. Shortly afterwards a triple peel from Keith Aiton decided the championship, though not this year in favour of Nottinghamshire. Cheshire were thus runners up for the second year running.
As usual the hospitality and catering was superb at both Southwick and Compton and thanks are due to the ground staff who prepared the lawns. Chris Williams once again managed the event and made a plea for punctual starts, though he was very nearly embarrassed on the first day when he realised he hadn't brought his mallet! Fortunately he was in the position of being able to send the new CA Manager back to his room to fetch it! Despite the dreadful weather forecast for the weekend most of the torrential rain happened overnight, and three of the days had sunshine. All in all it was a highly enjoyable weekend for players and spectators alike, with plenty of suspense right up until the last minute.
Division 1
| | | | |
| --- | --- | --- | --- |
| | Played | Won | Games |
| Somerset | 10 | 9 | 21 |
| Cheshire | 10 | 8 | 21 |
| Nottinghamshire | 10 | 8 | 19 |
| Surrey | 10 | 6 | 19 |
| Essex | 10 | 6 | 16 |
| Lancashire | 10 | 5 | 16 |
| Glamorgan | 10 | 4 | 15 |
| Dorset | 10 | 4 | 10 |
| Sussex | 10 | 3 | 13 |
| Middlesex | 10 | 2 | 10 |
| Yorkshire | 10 | 0 | 5 |
Division 2
| | | | |
| --- | --- | --- | --- |
| | Played | Won | Games |
| Suffolk | 10 | 7 | 20 |
| Hertfordshire | 10 | 7 | 18 |
| Northumberland | 10 | 6 | 16 |
| Hampshire | 10 | 5 | 17 |
| Gloucestershire | 10 | 5 | 16 |
| Wiltshire | 10 | 5 | 15 |
| Devon | 10 | 5 | 11 |
| Bedfordshire | 10 | 4 | 15 |
| Channel Islands | 10 | 4 | 14 |
| Warwickshire | 10 | 4 | 13 |
| Kent | 10 | 3 | 10 |
---