Bamford and Mulliner retain GC Open Doubles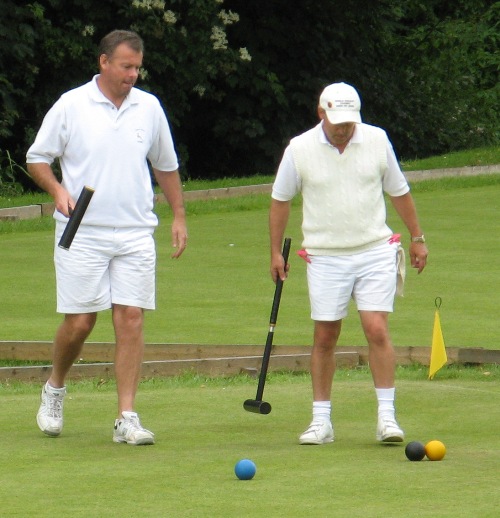 Reg Bamford & Stephen Mulliner (Photo: Tim King)
by Ian Vincent at Nottingham
12 June 2008 (
GC - Championships
)
Reg Bamford and Stephen Mulliner retained their Golf Croquet Open Doubles title at the first day of the GC Open Championships, which is being held at Nottingham. The 16 pairs were divided into four blocks, giving each three 19-point games, followed by a play-off between the block winners and consolation games for those that wanted.
The results of the play-offs were:
Bamford R & Mulliner S beat Old D & Arliss B 10-4
Spiers J & Butler N beat Walters D & Burridge I 10-7
Bamford & Mulliner beat Spiers and Butler 7-6, 7-4
The singles starts tomorrow, with four blocks of seven players.
---