Robert Wilkinson and Oxford University won the Student Croquet Championships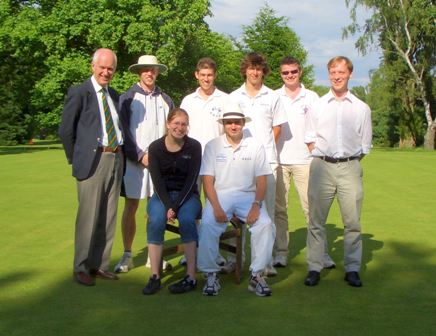 Players at Student Croquet Championship with CA Vice President (Photo: Ian Plummer)
by Ian Plummer at Oxford University
15 June 2008 (
AC - Championships
)
Robert Wilkinson (Oxford) defeated Tom Whiteley (Oxford) in the Student Singles final and won the Dudley Hamilton Miller trophy.
Rachel Rowe (Warwick University) was in 3rd position.
In the team event, Nottingham University entered three teams and were runners up to Oxford University, who retained the Edmund Reeve trophy. Andrew Hope, Vice-President of the Croquet Association, presented the trophies. He said that there were far too few young people playing but he welcomed seeing such enthusiasm at the Championships.
The Oxford Club thanked Andrew for presenting the trophies and for his encouragement and also thanks to Robert Wilkinson for managing the event.
Picture: Student Championship Players with CA Vice-President
Left to right: Andrew Hope, Joel Taylor (Camb), Rachel Rowe (Warwick), Robert Wilkinson (Ox), Harry Fisher (Ox), Tom Whiteley (Ox), Edward Keene (Nottingham), Rob Hurling (Nottingham).
Full Results
Team entries:
Nottingham A (Rob Hurling & Edward Keene) Nottingham B (Alec James & Neal Bacon) Nottingham C (Martin Court & Mark Morphew) Oxford (Robert Wilkinson & Thomas Whiteley)
Nottingham A bt Nottingham C +2
Oxford bt Nottingham B +25
Oxford bt Nottingham A +24
Singles results:
Rachael Rowe bt Joel Taylor +6
Neal Bacon bt Alec James +5
Harry Fisher bt Martin Court +24
Rachael Rowe bt Mark Morphew +18
Thomas Whiteley bt Rob Hurling +24
Robert Wilkinson bt Neal Bacon +25
Joel Taylor bt Alec James +24
Rachael Rowe bt Harry Fisher +12
Thomas Whiteley bt Neal Bacon +25
Neal Bacon bt Rob Hurling +16
Harry Fisher bt Joel Taylor +7
Robert Wilkinson bt Rachael Rowe +18
Joel Taylor bt Neal Bacon +6
Final playoff results:
Robert Wilkinson bt Harry Fisher +18
Thomas Whiteley bt Rachael Rowe +7
Robert Wilkinson bt Thomas Whiteley +18
---