Reg Bamford won British Open Golf Croquet Championship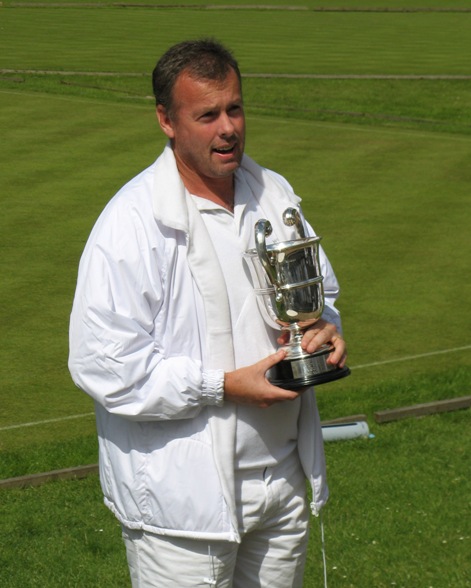 Reg Bamford and the trophy (Photo: Tim King)
by Stephen Mulliner at Nottingham
15 June 2008 (
GC - Championships
)
Reg Bamford beat Stephen Mulliner 7-2, 7-6 to retain the British Open Golf Croquet Championship title.
The final was a repeat of three previous finals (2002, 2003 and 2006) and started off with Bamford in more or less perfect form and Mulliner unable to hit with anything like the same frequency. Result 7-2 in about 30 minutes. The second began with Mulliner running 1 from 5 yards at an angle to within 3 feet of 2 and Bamford promptly clearing that from 25 yards. However an uncharacteristic missed clearance from C2 by Bamford gave Mulliner a 2-0 lead. Bamford took 3 with an accurate placement after 2 and a Mulliner miss from 14 yards but seemed destined to lose 4 when Mulliner jawsed with Y with B 8 yards NNE and K 18 yards N of 4. However, he produced a superb Barnes Wallis jump to clear Y and make it 2-2. After four consecutive clearances by both players before 5, Mulliner took it with another angled 5 yard hoop but lost the 6th after being the first to miss another series of clearances. Accurate positional play by Mulliner at 7 forced Bamford to try a jump from the boundary but, for once, he missed and Mulliner took both 7 and 8 to lead 5-3. Hoop 9 saw a lengthy exchange of clearances before Bamford ran it with K from the boundary from 3 yards W of C4, albeit only by 3 yards. Mulliner placed Y bang in front of 10 but Bamford promptly cleared with B from the South boundary. Mulliner then placed R almost bang in front of 10 - only to leave a double for K from which Bamford ran 10 for 5-5.
Hoop eleven was a length contest which Bamford seemed to have won when he almost-jawsed B and cleared Y with K to just NE of 12. From here Mulliner ran 6 to send B to the N boundary and leave Y a foot N of 11! B was sent back to a foot N of B, However R laid a near-perfect block on K lying on the E boundary and Bamford missed to the W boundary. Mulliner played a careful hampered hoop stroke with Y to SE of 12 to lead 6-5 and Bamford over-hit his lag with B so that it was open to Y. Mulliner sent R into good position and Bamford followed with K into similar position. Y cleared B from 8 yards to the middle of the W boundary but Bamford promptly cleared R with B. Mulliner missed K with R and Bamford ran 12 with K to make it 6-6. Y was sent to 4 feet N and slightly E of 13 and Bamford missed with B from N of 4 to the N boundary. Mulliner sent R to 3 yards N of 13 and Bamford now produced the key clearance with K on Y from S of 12, sending it to 3 yards W of C3 while K came to rest 5 yards N of 13. Mulliner went for the hoop but missed. Bamford now cleared R with B and Mulliner missed K with R from near 12. Bamford now made no mistake with his 5 yard 13 to win 7-6.
All four seeds, Reg Bamford, Stephen Mulliner, Jack Wicks and Ivor Brand, had reached the quarter finals undefeated and were joined by Dick Strover (after a play-off with Ray Mounfield), Carole Jackson (SA) (after a play-off with Nick Butler), Pierre Beaudry and, the surprise package, Tom Weston.
Bamford despatched Weston 7-0, 7-1 while Wicks and Strover had much closer victories over Jackson (7-5, 7-4) and Brand (7-5, 7-5) respectively. Match of the round was undoubtedly Mulliner v Beaudry who had contested a superb semi-final in the 2007 European Championship which Mulliner won by the narrowest of margins. Beaudry plays Solomon grip and, on form, is a formidable shot and long hoop-runner. The first two games were shared 7-5 but Mulliner got off to a good start in game 3 and finally triumphed 7-3. The semi-finals went according to form with Bamford beating Wicks 7-2, 7-3 and Mulliner beating Strover 7-4, 7-4. Such was the increase in pace of play by single banking and the higher quality of play to be expected of the later stages that semi-finals were completed by lunchtime.
The consolation event was 10-10 Doubles managed by Bill Arliss and its inventor, John Spiers. Given the need for rapidity in play, the emergence of Richard Thompson, partnered by Chris Sheen, as one of the winners was a tribute to Richard's rapid adaptation to this new form of play. Bill Arliss and Nick Butlet managed the fastest game with a win in 5.42 minutes. Several of the players were new to 10-10 but all seemed to enjoy it.
Twenty-eight players contested the 2008 at Nottingham Croquet Club using the club's 5 lawns plus an extra lawn borrowed from the bowlers. Despite the slowing effect of double -banking on Golf Croquet, the 84 best-of-3 block matches were completed in two days.
Bill Arliss conducted the presentation and thanked Nottingham for providing the venue and excellent catering and Stephen Mulliner for managing - equipped with pre-printed orders of play and even Ian Vincent's wide-screen TV as an extra monitor so competitors could see their block progress (an idea taken from the AC Worlds at Christchurch).
---