Don Gaunt unbeaten in the Seniors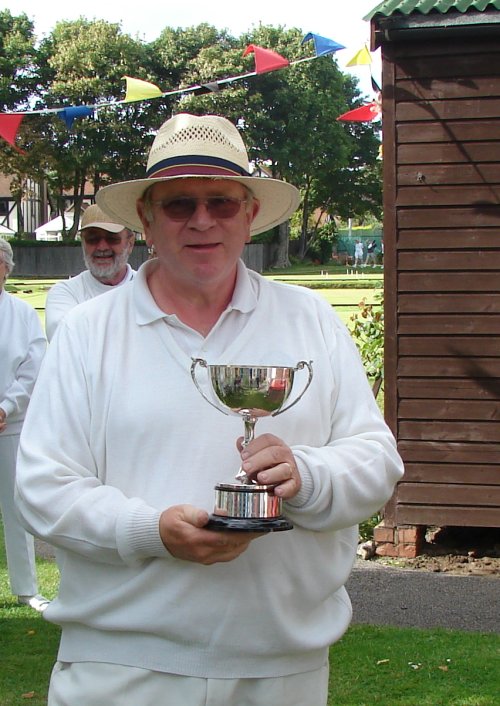 The Godfather with one of his trophies
by Ian Vincent at Southwick
14-19 July 2008 (
AC - Championships
)
The 2008 Seniors was played at Southwick, having been at Budleigh for the previous three years. It attracted 51 entries, under the able management of Julie Horsley. The week started with four rounds of XY handicap doubles, leaving just the finals to complete by Tuesday lunchtime. The rest of Tuesday was devoted to the big handicap, which was also a knockout. The five class events were then played as American blocks, followed by play-offs between the block winners or, for classes with a single block, the two highest placed players in the block.
There was a mixture of bright sunshine and overcast conditions, though with a buffeting wind on finals day. Given that it was the anniversary of the floods that swamped the Midlands last year, it could have been worse, though recent downpours had left the lawns looking greener than usual at this stage of the season. However, the banging to be heard from the vicinity of lawn 3 was due to the erection of a replacement fence, not over-strenuous roll strokes.
The catering was well up to Southwick's traditional high standards and it was complemented by beer on tap from the Dark Star brewery, supplemented by an impressive selection of bottles. On Thursday evening we were treated to an Italian evening, hosted by Christine and Jonathan Isaacs.
The Chairman (of both the Club and the CA Council) was clearly not letting the pressures of office get to him, as he won both the Big Handicap and the play-off for the B Class against Colin Hemming. The A Class final was between Don Gaunt, who was undefeated in the event and is now back to -1 1/2, and Paul Castell, who would have won the peeling prize had there been one.
It was sad that Fernando De Ansorena was unable to play due to a fever, as a trophy he had presented was being played for by the C Class: Brian Kitching beat Barry Gould, who won the consolation Egyptian, in the final. The D class was won by Neil Coote, beating the Manager, and the E Class by Pat Jackson. There were also new trophies for the Doubles, which was won by Gene Mears and Sharon Theobald; the Hemmings won the Y.
---