Sussex County lost to Ashby 3-4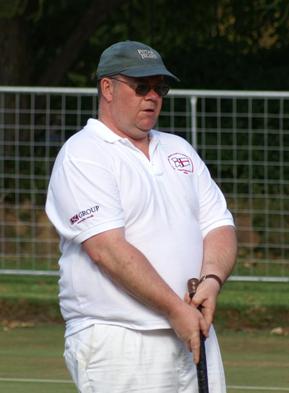 Mark Hamilton - a good singles victory but not enough to pull Sussex County through (Photo: Tim King [Cape Town, ZA, 2008-03])
by Tim King at Southwick
29th July 2008 (
GC - Inter-Club
)
Ashby put in a great team performance to squeeze past Sussex County in a closely fought match to determine the last place in the semi-finals. All the seven morning games were 10-8 or closer (two were 10-9), as were a further six out of ten were in the afternoon (two of those being 10-9). The choice of 19-point games made for a full day in hot, humid conditions.
Tim King and Ray Mounfield set the pace for the Ashby team with a controlled performance in the doubles. Having been 3-0 down on the first game, Tim King drew them level to 3-3 with a good long hoop. The leg remained tight but Mark Hamilton and Bill Arliss could not quite find their best form, losing in two games. Meanwhile, for Sussex County, Paul Castell demonstrated that experience can count for more than natural ability. Will Gee was left with some lessons to learn about being more forgiving of oneself for the occasional error. However, with Mike O'Brian keeping a steady nerve and holding off the challenge of Richard Brooks, Ashby took a 2-1 lead into lunch.
The afternoon started well for Ashby in that Will found better comfort on court 1, which was far flatter than court 5, and, thus, no longer found perfectly straight shots flying straight over the target ball. Will defeated Richard in the only one-sided leg of the day. Tim looked to be in control at 5-1 up in his first game. But Mark showed the progress he has made with his Association Croquet and kept tight control on his clearance and approach shots. After making the turn around to win the first 10-9, he then all but sealed the leg when he ran hoop 12 from the north boundary to go 8-4 up in the second. Tim did just about stay in contact but Mark turned out worthy winner (10-8).
At this stage, the momentum looked to be with Sussex County despite being 2-3 down. Bill and Paul had both won their first games. However, Ray and Mike (respectively) both came back and allowed for an almost simultaneous start of the final two deciding games. The situation was finely balanced and Sussex took the early initiative, taking advantage of being the starter in each game. Sitting between the two courts, one could get a true sense of sporting drama as almost every shot seemed to turn the balance of the whole match. Sussex looked in good shape but, eventually, Mike and Ray both managed to get ahead of their respective opponent. However, then Paul came back and took the advantage again; he made a crucial clearance at hoop 17, serving as the basis on which to take hoops 17 and 18 and win (10-8). The match was level again. However, this situation did not remain for more than a few minutes. Bill was beginning to feel the (weather) heat but gave Sussex hope by drawing back to 8-9 down at another well-fought hoop 17. In response, Ray put in a brilliant approach to a few inches in front of hoop 18 and was duly able to give Ashby the victory.
Thank you to Daphne and David Gaitley who kept the teams in control (Daphne) and provided (David) solid and liquid refreshments through-out the course of a draining day.
Ashby will play Blewbury in one semi-final (and a repeat of the 2007 final), while the other is between Surbiton and Dulwich.
Results
Morning
Mark Hamilton (0) & Bill Arliss (1) lost to Tim King (0) & Ray Mounfield (1) 9-10, 8-10
Paul Castell (2) beat Will Gee (2) 10-8, 10-9
Richard Brooks (3) lost to Mike O'Brian (2) 10-8, 8-10, 8-10
Afternoon
Mark Hamilton beat Tim King 10-9, 10-8
Bill Arliss lost to Ray Mounfield 10-9, 8-10, 8-10
Paul Castell beat Mike O'Brian 10-5, 7-10, 10-8
Richard Brooks lost to Will Gee 4-10, 4-10
---