David Maugham won the Eastern Championship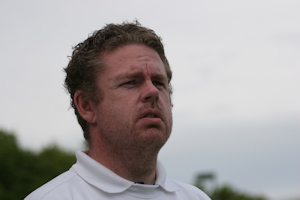 David Maugham won the Eastern Championship (Photo: Samir Patel)
by Richard Hilditch at Hunstanton
27 July 2008 (
AC - Championships
)
David Maugham
David Maugham +25tp, +25
David Maugham +22tp, +14tp, +26tp
David Maugham +20tp, +12tpo, +9tpo
David Maugham +26tp +26stp -26tp +16tp
Ailsa Lines
Ed Cunningham
Ed Cunningham +15stp, -5, +19
George Woolhouse
Mark Avery
Mark Avery +21tp, +22tp
Jamie Burch +26qp, +21tp, -17, -5tpo, +16tp
Jeff Race
Jamie Burch
Jamie Burch +26tp, +10tp
Martin Stephenson
Keith Aiton
Keith Aiton +26tp, +7tpo
Keith Aiton +3otp, +26tp, -8, +13tpo
Jeff Dawson +17, +26tp, +7otp
Duncan Hector
Ian Burridge
Ian Burridge +11qpo, +20tp
Jonathon Hills
Jeff Dawson
Jeff Dawson +8 +17
Jeff Dawson -17, +14otp, +6top, +9
Andrew Gregory
Stephen Mullinger
Stephen Mulliner +26sxp, +26tp
Jerry Guest
Plate
1st Mulliner 10/14
Equal second: Gregory 4/8 and Lines 5/9
Report
David Maugham beat Jeff Dawson to win the Eastern Championship. The final saw Jeff unable to recover from not getting in during the first two games allowing Maugham to retain his trophy (his 8th win in this event that he has nearly made his own).
In the semi finals Jamie Burch seemed to start his match with David Maugham assuming that he had already got far enough in the event, but later on recognised that it was OK to try and win, however Maugham proved far too reliable for him. In the other semi-final Jeff Dawson was able to hit back whenever he made the odd mistake and overcome Keith in a hitting contest. The final straw was when Keith tried and failed a risky 2-back in a 3-ball game with Jeff on the same hoop, it looked like he was allowing for whole match tactics.
Each day saw excellent sunny conditions throughout. We were treated to freshly cut lawns each day from the player groundsman Jeff Race (what a boon to a club). The first day was a bit humid not allowing the lawns to dry out but later in the weekend we started to get some quicker bits on the lawns but not enough to stop a fair bit of peeling. Indeed Stephen Mulliner proved true to his word in taking on sextuples at every opportunity, completing three and breaking down on several more.
---