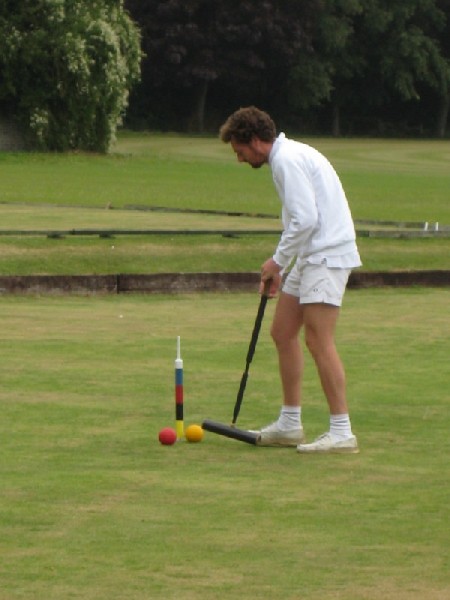 by Roger Wood at Compton
6th August 2008 (
AC
)
Compton Open Weekend: Eastbourne's sunshine was notably absent for the weekend, being replaced by dull skies and a little midday drizzle on both days; lawns - rather patchy showing variable pace, a complete contrast to the green of last year; hoops - standard 1/8-inch clearance and firm.
With several late withdrawals it was touch and go whether 16 players would start - luckily Mick Belcham and Compton newcomer Mike Cockburn sprang to the rescue. It was also good to be able to welcome two other newcomers: Southwick's Brian Kitching and Medway's Philip Mann. Pre-competition interest centred on Kevin Carter's challenge (backed by the promise of hard cash) to Rutger Beijderwellen to attempt octuple peels throughout the weekend in order to give the rest of the field a chance. Although in imperious form (peeling finishes in all but one of his games, including a sextuple against David Parkins) Rutger declined the gauntlet and opted to learn to play cribbage instead. Much to the manager's amazement and delight both best-of-three semis were completed on Saturday evening, a rare occurrence - even rarer, the final finished before lunch on Sunday!
Philip Mann produced a first round upset by beating Paul Castell and then Mick Belcham to reach a semi-final where he gave a good account of himself against Louise Bradforth who proved too strong for him. In the other semi Martin French (good to see him back after a gap of almost 20 years; COWbell winner in 1987, COWhorn winner in 1988 and 1989) only managed a single point while watching Rutger's triples.
In the best-of-five final Louise fared somewhat better. The first game saw Rutger take yellow to 4-back in the fourth turn but his NSL left the H4 ball a narrow target which Louise just missed. Rutger could not establish a break and hid in corner 4. Louise hit from H1, made H1 but was obliged to lay up near H2. Rutger sent red to corner 4 whereupon Louise, ignoring it, made a gritty 3-ball break to 4-back finishing with an approximate OSL. Rutger lifted to B-baulk, made a double of the balls on the east boundary near H4, hit and finished with a standard triple. In the second Louise had her chance when Rutger's intended seventh turn triple came to an abrupt halt as the 4-back peel didn't touch the sides and went off the boundary, but she stuck in H3 and Rutger finished. The third game saw some initial sparring before Rutger again went to 4-back in turn 10 with a NSL and finished in his next turn to win the COWhorn for the third time.
Having lost his first round knockout game to Martin French, Jack Davies sailed serenely through the Swiss without further defeat, dispatching his only possible rival for the COWbell, Mick Belcham, in the last round. Paul Castell was the only other player to complete triple peels; Martin Leach came oh-so close to his first triple in a tournament but sadly missed the peg out from 6 yards!
Mike Cockburn became the unwitting recipient of the COWpat on Kibble Kountback.
Knock out for the COWhorn
Round 1
David Parkins beat Brian Kitching +17
Rutger Beijderwellen beat Martin Leach +25(TP)
Martin French beat Jack Davies +4
Dave Kibble beat Dennis Shaw +7
Louise Bradforth beat John Low +10
Kevin Carter beat Gordon Hopewell +5
Philip Mann beat Paul Castell +8
Mick Belcham beat Mike Cockburn +4
Round 2
Rutger Beijderwellen beat David Parkins +26(SXP)
Martin French beat Dave Kibble +14
Louise Bradforth beat Kevin Carter +15
Philip Mann beat Mick Belcham +19
Semi-finals
Rutger Beijderwellen beat Martin French +25(TP) +26(TP)
Louise Bradforth beat Philip Mann +19 +20
Final
Rutger Beijderwellen beat Louise Bradforth +17(TP) +24 +26(TP)
3rd Place
Martin French beat Philip Mann +6 +17
Swiss for the COWbell
Winner: Jack Davies
4 wins: Mick Belcham
3 wins: Kevin Carter, Paul Castell
2 wins: Gordon Hopewell, Dave Kibble, Martin Leach, John Low
1 win: Mike Cockburn, Brian Kitching, David Parkins, Dennis Shaw
Ace Peeler: Rutger Beijderwellen; Runner up: Paul Castell
COWpat: Mike Cockburn