Ryan Cabble won the All England Golf Handicap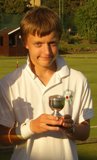 Ryan Cabble
by Freda Vitty at East Dorset Croquet Club
21 September 2008 (
GC
)
Ryan Cabble won the All England Golf Croquet Handicap Competition Finals, beating James Goodbun to take the trophy.
The final was best-of-three 13 point games between Ryan and James, both just 15 years old. The games were played in excellent spirit and at a good pace. The spectators, who included all of the other contestants, family, friends and some local players, were treated to a display of spectacular clearances, accurate hoop running and attacking play. The difference between the players came down to James's slightly higher error rate and although Ryan did not use his extra turn in either game, James was always aware of the threat and was perhaps forced into taking more risks. The final result was 7-5 , 7-5 to Ryan, whose handicap is now three as a result of his success.
The first day's play left all to play for on the Sunday morning with several vital games between the front runners and with Colin Davies (4) coming through to contest fourth place. By the end of the block games, all nine players had won at least two of their eight games. Block results saw Ryan, James, Richard and Colin through to the semi-finals. Ryan Cabble (4) beat Colin Davies (5) 10-5 and James Goodbun (3) beat Richard Harris (5) 10-4
In full sunshine and comfortable temperatures and on beautifully presented lawns, there were many close games, validating the handicap system. By Saturday evening, last year's winner, Richard Harris (5) was on four out of five wins, as was 15 year old Ryan Cabble (4). Close behind was another 15 year old, James Goodbun (3) from Ramsgate with three out of six wins and Brian Roynon (8), from the same Bristol club as Ryan, was on three out of five wins
After club heats and regional finals, 12 players with entry handicaps from four to eight went through to the finals at East Dorset club. Three players dropped out leaving nine who played in an all- play- all block one 19-point game.
The weather, lawns, hospitality and the friendliness of all players contributed to an excellent weekend, which saw the culmination of a season-long competition. My thanks go to all the players who made it a pleasure to manage the finals and to all of the people who ran and played in the earlier heats.
There are a number of names on this trophy that continue to appear on the National and International scene. We can now add Ryan and James to the growing list of young players, who are having an impact on the National scene. We need to encourage and nurture this talent, which should ensure the future of the game.
---