Surbiton beat Ashby at Wrest Park to win the 2008 Golf Croquet Inter-Club Championship 5-2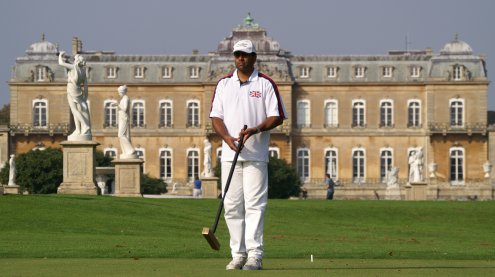 Samir Patel contemplates his shot in the splendour of the Wrest Park setting (Photo: Tim King)
by Tim King and Don Beck at Wrest Park
27th September 2008 (
GC - Inter-Club
)
GOLF CROQUET Inter-Club Final Surbiton v Ashby
Venue Wrest Park 27th September
Surbiton beat Ashby to win the Inter-Club Golf Croquet Championship.
Teams
Surbiton: Reg Bamford (handicap 0), Chris Farthing (1), Samir Patel (1), Don Beck (1)
Ashby: Ray Mounfield (1), Tim King (1), Will Gee (2), Mike O'Brian (2)
Surbiton fielded the strongest team seen in this competition with a total handicap of 3 and all featuring in the top 30 of the the UK rankings (Reg being the current World number 1). Their only defeat in this competition came in last year's semi-final when Ashby gained a narrow victory before losing the final to Blewbury.
The players arrived to find the grounds cloaked in a thick Autumn fog which greatly restricted visibility. This led to players changing spectacles and looking for contact lenses. Was this the darkest start to a major final?
After much juggling of team order by both captains, Reg and Chris started the doubles playing Ray and Tim. All the morning games went according to ranking expectations and delivered an early 3-0 lead to Surbiton
Reg and Ray quickly vacated their lawn in the afternoon but the other players did not notice as they were involved in their own battles. Chris had a proud record of 9 years unbeaten service representing Surbiton. Tim put an end to that!
Don won against Mike giving Surbiton a 5-1 lead and all the players assembled to watch the final stages of the last match Samir against Will, one of the growing number of young challengers to the established stars.
After sharing the first two games the third featured Will running 10 from the boundary behind 9 a shot of 30 yards. He followed this at 12 with a long clearance yellow hitting blue near the peg from 5 yards behind 12. The view partially restricted by balls red and black in front of 12. His shot cleared blue to the north boundary. Samir missed his shot at red leaving Will to run the hoop with red and win 7-5 providing some consolation to Ashby.
Results
Reg Bamford & Chris Farthing beat Ray Mounfield & Tim King 7-4, 7-5
Samir Patel beat Mike O'Brian 7-4, 7-3
Don Beck beat Will Gee 7-5,7-4
Reg beat Ray 7-1,7-1
Chris lost to Tim 3-7, 1-7
Don beat Mike 7-3,7-5
Samir lost to Will 3-7, 7-6, 5-7
Players
Players featuring in the Surbiton team in this competition: Stephen Mulliner, Don Beck, Dick Knapp, Ian Parkinson, Samir Patel, Mary Knapp, Chris Farthing, Reg Bamford.
---