Gateball in the UK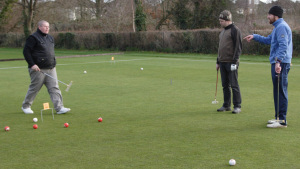 Mark Hamilton, Rutger Beijderwellen and Chris Farthing try Gateball at Surbiton Croquet Club (Photo: Samir Patel)
by Graham Brightwell at Surbiton
18 January 2009 (
Other News
)
Alex Park, an Australian Gateball International brought Gateball equipment and a great deal of patience to Surbiton on Sunday 18 January.
He was greeted by 24 croquet players keen to understand and try the mallet game that is so popular in the Far East. The weather was as kind (perhaps) kinder than we should expect so early in the year: sunny, but cold with a wind capable of finding the smallest gap in winter clothing. After a quick explanation of the principles of the game and some basic rules, Alex organised matches on the two courts he'd assembled on one croquet lawn. So, everyone who wished was able to play in a team of 5 and experience the challenge of hitting solid tennis-sized balls with the 5cm diameter face of a Gateball mallet.
Those at Surbiton on Sunday gained enough of an introduction to Gateball to appreciate why the game has such a following in China, Korea, Japan and Taiwan. It was an enjoyable day and everyone thanked Alex for introducing a new game to a bunch of croquet addicts.
---