CA Office Extension Progress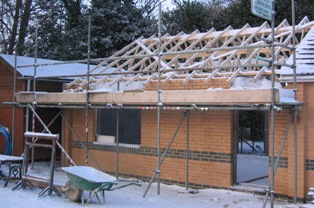 Office Extension on 3 Feb 2009 (Photo: Elizabeth Williams)
by Elizabeth Williams at Cheltenham
6 February 2009 (
Other News
)
The extension to the office is continuing to take shape although work has been slowed down because of the adverse weather. Cheltenham has been affected by snow several times, the most recent being from 2 - 6 February 2009.
The walls have been built and the next stage is to complete the roof and lay the concrete floor. It is expected that it will complete around the end of February.
The extension will largely be a storage area for shop items, some archives, a toilet and will house a small kitchen area with a sink and fridge. This will mean that staff will no longer have to trek to the clubhouse for water for the kettle, etc etc.
---