Most Northerly and Most Dramatic?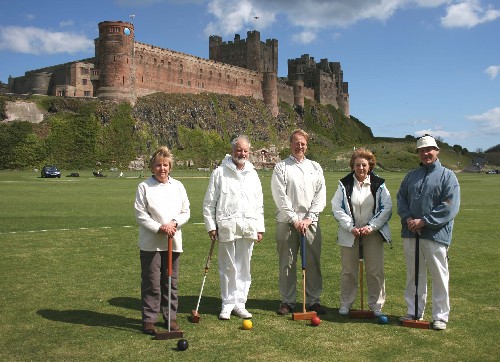 (Photo: Steve Newman)
by Steve Newman at Bamburgh
7th May 2009 (
Other News
)
With the association's most northerly club now in its second year, croquet on the Castle Green is becoming a regular feature village life in Bamburgh, Northumberland. Club members are also asking if there is a more dramatic setting for a croquet club anywhere than under the magnificent keep built by Henry II? The club plays both golf and association croquet and is catering for an enthusiastic group of players new to the game.
Chairman Jamie Edgar said "We are delighted that Bamburgh has joined the 160+ clubs in England and Wales that participate in the sport which is increasing rapidly in popularity in the north-east. We are proud to be the northern-most club in the Croquet Association!"
The club has all levels of players with a large number of beginners who enjoy the social afternoons and fun of the game. Club coach Allan Hawke will be organising a tuition course for both styles of the game on Sunday afternoons commencing on the 10th of May.
Further information can be found on the club's website at www.bamburghcroquetclub.org.uk or by telephoning 0131 336 2585.
In the picture are Bamburgh Croquet Club members (from left to right) Chris Baldwin (Local rep), Alan Hawke (Club Coach), John Woodman (Treasurer), Seonaidh Edgar (Secretary) and Jamie Edgar (Chairman) prepare to spend another enjoyable afternoon under the magnificent setting of Bamburgh Castle.
---