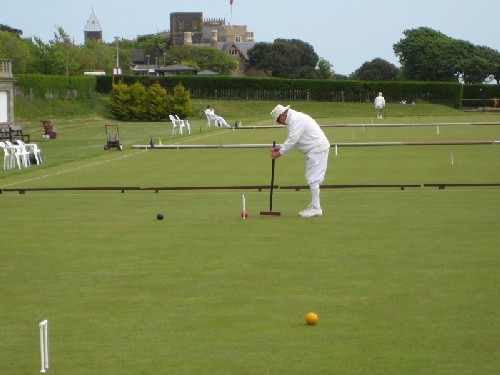 David Mumford in full flow (Photo: Roger Wood)
by Roger Wood at Ramsgate Croquet Club
9-10 May 2009 (
AC
)
OK, so alligator-infested pools were nowhere to be seen, the breeze was a touch too cool, and there was no expectant world hanging on every result - but Ramsgate was still a good place to be for a weekend in early May! The sun broke through in the afternoons, the lawns were true and in excellent condition, running at 10 seconds or so on both days. The cliff-top location is impressive and the regular curiosity of the passing public a source of interest and amusement. With a field of just eight players (ranging in handicap from -1 to 4) and four lawns available there was no need for double banking. Manager Dennis Shaw time limited games to 2 hours 15 minutes so that all could play all, a format that worked very well with just four of the 28 games going to time.
After three rounds David Mumford and Steve Woolnough topped the leader board on three wins each, but then Steve faltered in round 4, losing to Alex Jardine, while David clocked up another win over Ramsgate local David Dray. From then on the also-rans hoped against hope that someone would overcome the seemingly inexorable Mumford machine but, despite a close-fought final game against Steve Woolnough, it was not to be. David's long hitting and confident hoop running were down to his elegant long-arc swing which remained dependable throughout, and he sailed serenely on during Sunday to remain unbeaten, two wins clear of runner-up Don Gaunt.
The Ramsgate ladies kept the contestants well fed and watered, with the home-made lemon ice-cream on Sunday being especially admired. In presenting the Eileen Shaw Rose Bowl to the winner the manager remarked on how pleasant (not to say unusual) it was to have players who could actually read - having posted his notices at the beginning of the day everyone went about their business without further instruction!
Results
7 wins: David Mumford;
5 wins: Don Gaunt;
4 wins: Steve Woolnough, Roger Wood;
3 wins: David Dray;
2 wins: Alex Jardine, Paul Miles;
1 win: Dennis Shaw.
Handicap reduction
David Mumford scratch to -0.5