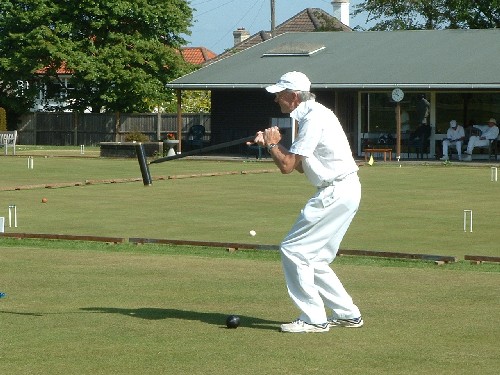 Alan swinging (Photo: Colin Hemming)
by Colin Hemming at Colchester
9-10 May 2009 (
AC
)
There was something sinister in the air over Colchester in the week leading up to this tournament. With 8 days to go we had 15 definites, with someone standing by to take the last place and so fill our four lawns. Then disaster struck. In the next 72 hours three people dropped out due to injury. Non-trivial injuries, too, including a broken thumb.
So we started on Saturday morning with 12 players. But you know what they say, it's quality that counts, not quantity. Nevertheless, everyone seemed to have a decent time anyway (and let's face it, there were a few good quality games played during the two days).
Just to vary things a little, we started the tournament with the presentation of the trophy, and followed it by playing the games. Or to be perfectly honest, we presented the trophy to last year's winner Mark Homan before we kicked off this year's event (it had been lost when he won it last May). He was a good chap, did the right thing and handed it back straight away. As Mark said, he is probably the only person to have held the trophy for a year and never had to clean it!
Format was Egyptian with a variable starting index dependent upon handicap, and the first round was drawn randomly but with the lower and higher handicaps separated to avoid large disparities appearing too early. In this format the winner is the player who increases his index the most, rather than the one who has the highest index at the end. Games were limited to two hours followed by six Wharrad turns. Strictly speaking, this format is contrary to tournament regulations (it should be 1 1/2 hours and
12 Wharrad turns) but in the six years I have been running this tournament the arrangement has proved almost universally popular, and has been taken up by at least two other clubs. We did have a complainant this year, however, who stated loudly that Wharrad turns encouraged negative play at the end of a game; it is interesting, though, that his actions during his own Wharrad turns convinced everyone other than himself that the reverse is true.
Alan Edwards won all four of his games on day 1, establishing a lead which he simply increased on day 2 to win the tournament with a score of +21 points. Second was Martin Leach on +13, and third, playing in his first advanced tournament, was Nick Steiner. Alan received the Roy Alford trophy and an engraved glass goblet. Nick, for such a good showing for an inexperienced player, received the Manager's Special Prize of a bottle of Croquet aperitif.
Handicap Changes
Alan Edwards: 2 to 1.5
Mark Homan: 3.5 to 4
Nick Steiner: 10 to 9