Nottinghamshire maintain their lead to the end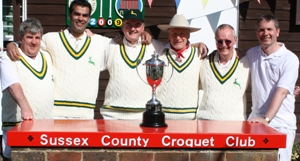 The Victorious Nottinghamshire Team with the Trophy (Photo: Elizabeth Williams)
by Bill Arliss at Southwick and Compton.
Tues 26 May 2009 (
AC - Championships
)
Nottinghamshire kept the pressure on and finished clear winners of the AC Inter Counties Championship with 9 wins from 10 games with Cheshire and Somerset taking second and third places. At the bottom of div 1 Essex just escaped relegation with a slightly better games total than Dorset who will take their place in div 2 next year with Hertfordshire and Northumberland.
Bedfordshire were clear winners of the second division and are promoted to div 1 next year together with Gloucestershire and Middlesex.
Final League Tables
Division 1
| | | | |
| --- | --- | --- | --- |
| | Played | Wins | Games |
| Nottinghamshire | 10 | 9 | 21 |
| Cheshire | 10 | 8 | 22 |
| Somerset | 10 | 7 | 21 |
| Surrey | 10 | 7 | 16 |
| Lancashire | 10 | 6 | 16 |
| Glamorgan | 10 | 4 | 14 |
| Suffolk | 10 | 4 | 14 |
| Essex | 10 | 4 | 12 |
| Dorset | 10 | 4 | 10 |
| Hertfordshire | 10 | 1 | 10 |
| Northumberland | 10 | 1 | 9 |
Division 2
| | | | |
| --- | --- | --- | --- |
| | Played | Wins | Games |
| Bedfordshire | 10 | 9 | 23 |
| Gloucestershire | 10 | 8 | 21 |
| Middlesex | 10 | 7 | 20 |
| Hampshire | 10 | 5 | 15 |
| Sussex | 10 | 5 | 15 |
| Channel Islands | 10 | 4 | 15 |
| Yorkshire | 10 | 4 | 12 |
| Wiltshire | 10 | 4 | 11 |
| Kent | 10 | 3 | 13 |
| Warwickshire | 10 | 3 | 10 |
| CA Select | 10 | 3 | 10 |
All Results
| | | | |
| --- | --- | --- | --- |
| Northumberland | 1 | Glamorgan | 2 |
| Middlesex | 1 | Sussex | 2 |
| Nottinghamshire | 2 | Lancashire | 1 |
| Surrey | 0 | Cheshire | 3 |
| Wiltshire | 2 | Yorkshire | 1 |
| CA Select | 2 | Gloucestershire | 1 |
| Bedfordshire | 3 | Kent | 0 |
| Warwickshire | 1 | Hampshire | 2 |
| Suffolk | 1 | Dorset | 2 |
| Essex | 2 | Hertfordshire | 1 |
| CA Select | 2 | Kent | 1 |
| Glamorgan | 1 | Nottinghamshire | 2 |
| Gloucestershire | 3 | Wiltshire | 0 |
| Yorkshire | 0 | Sussex | 3 |
| Middlesex | 1 | Bedfordshire | 2 |
| Lancashire | 3 | Northumberland | 0 |
| Surrey | 1 | Somerset | 2 |
| Suffolk | 1 | Essex | 2 |
| Hampshire | 2 | Channel Islands | 1 |
| Dorset | 2 | Hertfordshire | 1 |
| Yorkshire | 1 | Gloucestershire | 2 |
| Bedfordshire | 3 | Wiltshire | 0 |
| Somerset | 2 | Northumberland | 1 |
| Middlesex | 2 | Kent | 1 |
| Nottinghamshire | 2 | Cheshire | 1 |
| Surrey | 2 | Glamorgan | 1 |
| CA Select | 1 | Sussex | 2 |
| Suffolk | 1 | Hertfordshire | 2 |
| Essex | 3 | Dorset | 0 |
| Warwickshire | 2 | Channel Islands | 1 |
| Cheshire | 3 | Essex | 0 |
| Hampshire | 0 | Gloucestershire | 3 |
| Glamorgan | 1 | Dorset | 2 |
| CA Select | 0 | Wiltshire | 3 |
| Channel Islands | 2 | Kent | 1 |
| Yorkshire | 0 | Bedfordshire | 3 |
| Warwickshire | 0 | Middlesex | 3 |
| Lancashire | 2 | Hertfordshire | 1 |
| Surrey | 2 | Suffolk | 1 |
| Nottinghamshire | 2 | Somerset | 1 |
| Channel Islands | 0 | Middlesex | 3 |
| Yorkshire | 2 | Kent | 1 |
| Gloucestershire | 2 | Bedfordshire | 1 |
| Cheshire | 3 | Northumberland | 0 |
| Hampshire | 3 | Sussex | 0 |
| Warwickshire | 2 | CA Select | 1 |
| Glamorgan | 3 | Essex | 0 |
| Somerset | 0 | Suffolk | 3 |
| Nottinghamshire | 2 | Hertfordshire | 1 |
| Surrey | 2 | Lancashire | 1 |
| CA Select | 1 | Bedfordshire | 2 |
| Wiltshire | 1 | Sussex | 2 |
| Warwickshire | 1 | Yorkshire | 2 |
| Hampshire | 1 | Middlesex | 2 |
| Essex | 2 | Northumberland | 1 |
| Cheshire | 2 | Dorset | 1 |
| Channel Islands | 3 | Gloucestershire | 0 |
| Surrey | 0 | Nottinghamshire | 3 |
| Lancashire | 2 | Suffolk | 1 |
| Somerset | 3 | Hertfordshire | 0 |
| Dorset | 0 | Nottinghamshire | 3 |
| Warwickshire | 0 | Bedfordshire | 3 |
| Northumberland | 1 | Suffolk | 2 |
| Channel Islands | 2 | Sussex | 1 |
| Kent | 0 | Gloucestershire | 3 |
| Surrey | 2 | Hertfordshire | 1 |
| Hampshire | 1 | Wiltshire | 2 |
| Somerset | 3 | Glamorgan | 0 |
| Lancashire | 2 | Cheshire | 1 |
| Middlesex | 3 | CA Select | 0 |
| Hampshire | 2 | Kent | 1 |
| Gloucestershire | 2 | Sussex | 1 |
| Nottinghamshire | 2 | Essex | 1 |
| Surrey | 3 | Dorset | 0 |
| Channel Islands | 1 | Bedfordshire | 2 |
| Warwickshire | 2 | Wiltshire | 1 |
| Northumberland | 2 | Hertfordshire | 1 |
| CA Select | 2 | Yorkshire | 1 |
| Lancashire | 0 | Somerset | 3 |
| Cheshire | 2 | Glamorgan | 1 |
| Channel Islands | 1 | Wiltshire | 2 |
| Essex | 1 | Surrey | 2 |
| Warwickshire | 1 | Gloucestershire | 2 |
| Hampshire | 1 | Bedfordshire | 2 |
| Northumberland | 1 | Dorset | 2 |
| Kent | 2 | Sussex | 1 |
| Nottinghamshire | 1 | Suffolk | 2 |
| Cheshire | 2 | Somerset | 1 |
| Glamorgan | 2 | Lancashire | 1 |
| Middlesex | 2 | Yorkshire | 1 |
| Hampshire | 2 | CA Select | 1 |
| Channel Islands | 1 | Yorkshire | 2 |
| Cheshire | 2 | Hertfordshire | 1 |
| Glamorgan | 1 | Suffolk | 2 |
| Somerset | 3 | Essex | 0 |
| Northumberland | 1 | Nottinghamshire | 2 |
| Dorset | 1 | Lancashire | 2 |
| Wiltshire | 0 | Middlesex | 3 |
| Warwickshire | 0 | Kent | 3 |
| Sussex | 1 | Bedfordshire | 2 |
| Lancashire | 2 | Essex | 1 |
| Somerset | 3 | Dorset | 0 |
| Channel Islands | 3 | CA Select | 0 |
| Northumberland | 1 | Surrey | 2 |
| Cheshire | 3 | Suffolk | 0 |
| Glamorgan | 2 | Hertfordshire | 1 |
| Hampshire | 1 | Yorkshire | 2 |
| Warwickshire | 1 | Sussex | 2 |
| Gloucestershire | 3 | Middlesex | 0 |
| Wiltshire | 0 | Kent | 3 |
---