Parsons Green One-Ball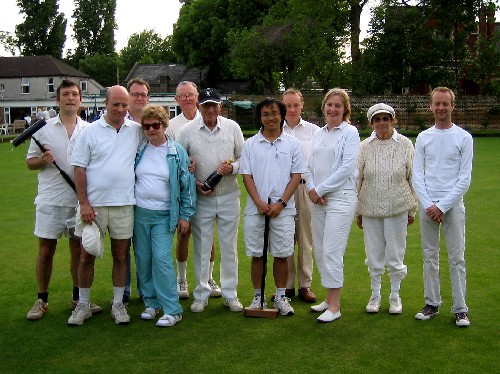 (Photo: Nick Parish)
by Nick Parish
5th June 2009 (
Other News
)
On a sunny spring day the annual Parsons Green One-Ball Tournament drew players from as far as San Francisco. Tea and biscuits got the energy surging while Tournament Manager Gary Duke threw his magic dice for the Swiss Block jiggery-pokery, and with last year's winner Anne Robillard commanding the hot beverage counter, it was an open field.
The ball markers saw heavy action with up to four games per lawn enthralling the crowds around the superb lawns. Multi-tasking Gary used his recent referee course to adjudicate any tricky points of law and under his calm, sure-handed management the early rounds were fiercely fought.
Midday and the slap-up lunch was ample as ever, the bar saw some customers, too. After returning to the lawns under the fine sun, a few games saw Eugene Chang enter the running along with Tony Fathers. But couple of late spurts could not stop the last round having only one key game - the decider between Brian Rees and Bob Prichard for the bubbly.
A super afternoon tea provided by club Captain Nick Parish gave us the refreshment we needed before Gary handed the victory bottle to a deserving Brian. Many thanks were given to Gary and Anne for their great work during the day and nobody could have wished for a more enjoyable start to the croquet season.
---