The 95th Inter-Counties Championship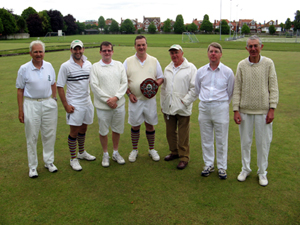 The Bedfordshire Team, Which Won the 2nd Division
by Sue Mackay at Southwick & Compton
23-26 May 2009 (
AC - Championships
)
The 95th Inter-Counties Championship started less than a week after the World Championships in Florida. Returning players brought the Florida sunshine with them for the first two days of the tournament, but a few top players who had used up their leave entitlement were unable to make it to Sussex. Nottinghamshire, however, proved unfazed by the lack of James Death, and their team of Keith Aiton, Dean Bennison, Gary Bennett, Patrick Hort, Richard Huxley and Richard White lifted the trophy for the fourth time in five years, losing only to Suffolk
Bedfordshire won the Second Division with an equally impressive performance of 9 wins, their one loss being at the hands of runners-up Gloucestershire, who were also promoted to the First Division next season along with Middlesex. The Bedfordshire squad of Tom Anderson, Ben Ashwell, John Bevington, Howard Bottomley, George Collin, Brian Harral, Jon Watson and John Wheeler were usually fairly easy to spot on the lawns, thanks to Jon Watson's long socks in croquet colour stripes.
Yorkshire won the wooden spoon last year with no match wins, and started the tournament with four losses, so their victory against Kent ended a run of 14 consecutive defeats in the Counties, which inspired them to three further wins. Kent were looking such a certainty for the wooden spoon, with only one win at the end of Day 3, that the manager sent the trophy over to Compton, where they were playing on the last day. Kent then proceeded to beat both Warwickshire and a depleted Wiltshire team, as Roger Hayes had sadly had to leave to attend the funeral of Nick King, a promising Bath player killed in a motorcycle accident. In the end there was a tie for bottom place between Warwickshire and the CA Select team (formed when Devon had to withdraw), with the CA Select winning the wooden spoon on the "who beat whom" rule.
The greatest interest on the last day at Southwick was the battle for the third relegation spot. Hertfordshire and Northumberland had each only managed one match win and were clearly relegated, but there were four teams still in danger on the last day. Suffolk had thus far failed to be as strong as they looked on paper, and they played their first match against Glamorgan with both teams on 3 wins in what was billed as the relegation clash. Mark Avery completed a TP to take the first game for Suffolk just one minute before Ian Burridge retaliated with a STP to make it 1-1. The third game looked as if it might go Glamorgan's way, but then ex world champion John Walters recovered from earlier errors and clawed his way back into the game to win by the proverbial +1 on time.
Glamorgan therefore still only had 3 wins, but their last match was against already relegated Hertfordshire. If they could win that match, then they would have a superior game tally to either Dorset or Essex, both on 4 wins and playing strong opposition in their last matches. Somerset and Lancashire duly obliged by beating Dorset and Essex respectively, but Glamorgan seemed to be throwing it away on lawns 7, 8 and 9. John Evans and David Walters won the first game relatively easily, but neither Kevin Ham nor Ian Burridge could get going on the next lawn and time was fast running out. Ian was sprinting round the lawn in an attempt to finish his turn before time was called so that Kevin could have another turn, but failed penult. 1-1. In the decider Garry McElwain had managed to get to 4-back, but Hertfordshire's Simon Hathrell had made the first break and David Tutt was able to capitalise from uncharacteristic errors from Chris Williams. In the end Chris played a captain's innings by getting back in as time was called and taking his ball from hoop 5 to the peg in a largely two ball break to save Glamorgan from relegation and to send Dorset to the Second Division next season.
There was another exciting timed ending on the first day at Compton between Hertfordshire and Dorset. With the match score 1-1, David Trimmer did an all round break as time was called and pegged his ball out, with his side two hoops ahead and the remaining balls well scattered. George Woolhouse (Hertfordshire) hit in across the lawn, did a long take-off to 1-back, ran the hoop to A-baulk, roqueted the ball by Hoop 6 and took off to get in front of 2-back. He only had to run the hoop to take the game into sudden death, with the advantage of still having a partner ball, but after all that work he blobbed the hoop. There can't have been too much hard hitting at Compton, however, as at one point a fox was seen trotting across the lawns.
The shot of the tournament was not played at Southwick or at Compton, but at the pitch and putt course, where Lancashire had gone during their bye game. Alan Pidcock drove off the first tee and managed to hit his ball straight through the windscreen of a car on the A259 - fortunately no-one was hurt. Apparently John Haslam hit a bus on the same course a few years ago, so beware when Lancastrians play pitch and putt! When they played Glamorgan at Compton, Alan was only on Hoop 4 when time was called and he needed to get to rover. Dave Nick encouraged him to go for long hoops by saying "just imagine a pane of glass in the middle!" They won that game, but although Lancashire may have lost the match to Glamorgan, their captain David Openshaw will not have minded. He missed the games at Compton so that he could watch his beloved Burnley FC reach the Premiership, and as the icing on the cake Lancashire beat Cheshire, which will give them bragging rights at Bowdon for some time to come. Paul Rigge and Ray Lowe were the Lancashire heroes, winning a tense decider against Colin Irwin and Alan Mayne in the last game of the morning to finish.
The Counties is always a marvellous festival of croquet but is not always a festival of great play. Top players often get the best out of their B class partners and then fail to get round themselves. There were sextuples from Samir Patel and Stephen Mulliner, both playing for Surrey, and one from Rutger Beijderwellen (Sussex) on the first day. Mostly, however, the story was of failed multiple peeling attempts or QPOs that turned into OPQs. The weather turned on Bank Holiday Monday, with thunderstorms making conditions at Compton in particular extremely difficult. As usual, however, the groundsmen at both venues had done a magnificent job of preparing the lawns, and the catering was of the usual superlative standard. Thanks are due to all the Southwick and Compton members for helping to organise the tournament and making it so enjoyable, and to Chris Williams for managing the event.
---