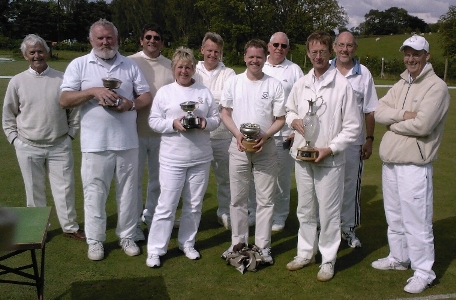 Players at Pendle Tournament (Photo: Liz Wilson)
by Ian Lines at Pendle & Craven
8th June 2009 (
AC
)
Ian Lines won the Pendle & Craven June Advanced Weekend to retain the David Openshaw Trophy. The Chris Clarke Trophy for the A-Class was won by Lee Hartley of Fylde, after an exciting final game against Dave Nick. The Jeremy Dyer Trophy for the B-Class was won by Liz Wilson, also of Fylde, who beat David Barrett fairly comprehensively in the decider. Dave Nick won the Chris Hudson Trophy for the fastest game with a very neat 35 minute +26tp against Brian Kerr.
Congratulations also to Lee and Liz for reducing their handicaps to -0.5 and 3 respectively.
The lawns at Pendle were quite good, running at about 10 Plummers despite the overnight rain. The hoops were well set to a 1/32" by Abdul Ahmad, but were still reasonably easy to run due to the damp ground. However, the slight slopes near a few hoops sometimes punished inaccurate break play and led to a few triples breaking down.
The event was run as a semi-flexible Swiss, with an A- and a B-Class, with 6 players in each.
A-Class
Ian Lines (-2) 5/5 2tp
Lee Hartley (0) 4/6 1tp
Dave Nick (-1) 5/8 2tp, 1tpo
Brian Kerr (1) 2/5
Peter McDermott (2) 2/5
Tom Griffith (0.5) 0/6
B-Class
Liz Wilson (3.5) 4/5
David Barrett (0.5) 3/5
Ken Jones (4) 3/5
Peter Wilson (2.5) 2/5
Terry Foster (4) 1/4
Robert Dodds (3.5) 1/5
Full Results
Dave Nick beat Brian Kerr +26tp
Lee Hartley beat Tom Griffith +13tp
Liz Wilson beat Robert Dodds +2
Ian Lines beat Peter McDermott +12
David Barrett beat Terry Foster +12
Peter Wilson beat Ken Jones +3
Dave Nick beat Tom Griffith +6tp
Lee Hartley beat Brian Kerr +9
Ian Lines beat Tom Griffith +16
Dave Nick beat Peter McDermott +14
Ken Jones beat Liz Wilson +19
Terry Foster beat Peter Wilson +2
Ian Lines beat Brian Kerr +26tp
Robert Dodds beat David Barrett +9
Lee Hartley beat Dave Nick +17
Liz Wilson beat Peter Wilson +4
David Barrett beat Ken Jones +19
Ian Lines beat Lee Hartley +26tp
Dave Nick beat Robert Dodds +26
Peter McDermott beat Tom Griffith +9
Liz Wilson beat Terry Foster +7
Brian Kerr beat Tom Griffith +4
Ian Lines beat Dave Nick +21
Ken Jones beat Robert Dodds +4 (t)
David Barrett beat Peter Wilson +1 (t)
Peter McDermott beat Lee Hartley +1 (t)
Dave Nick beat Tom Griffith +6tpo
Peter Wilson beat Robert Dodds +16
Liz Wilson beat David Barrett +18
Brian Kerr beat Peter McDermott +2
Ken Jones beat Terry Foster +2 (t)
Lee Hartley beat Dave Nick +6