Tony Whateley won the Tyneside Midweek Handicap Tournament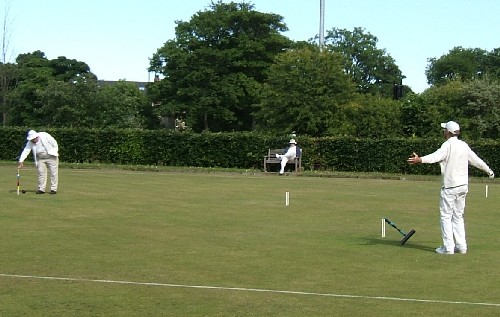 Tony's elation at pegging out, with the Manager looking on
by Derek Watts at Tyneside
9-11 June 2009 (
AC - Handicap
)
With 12 entries, Manager Derek Trotman arranged for 2 blocks of 6 to be played on the two lawns at Exhibition Park and the single lawn in Nuns Moor Park (some 2 miles away). This worked very well and did not interfere with the overall running and conviviality of the event. Unfortunately, one player phoned in with a sick note on the first day and local players were drafted in to enable games still to be played so there was no sitting out.
In the "Red Block" David Millener (Belsay Hall) won all his games with Tony Whateley (Glasgow) runner up. The "Blue Block" saw Phil Errington (Belsay Hall) win all his games with Alice Fleck (Tyneside) runner up.
In the semi finals, Tony beat Phil +3 and David beat Alice +12 and the final saw Tony beat David +4 in an exciting finish. David used 5 bisques to build up a convincing lead but when the bisques were down, Tony clawed back and eventually overcame David's lead. However, in Tony's long pegout, the front ball missed so he pegged out his strikers ball. This allowed David to chip away 1 hoop at a time with Tony either shooting at balls or the peg until he eventually pegged out with a single ball shot from hoop 1 area.
The weather was very kind and the players were well catered for by the now famous "Sheilas Meals" !
Block Results
Red Block
David Millener 4/4, Tony Whateley 3/4, David Turner (Tyneside) 2/4, David Appleton (Tyneside) 1/4, Ian Whitlock (Edgbaston) 0/4
Blue Block
Phil Errington 5/5, Alice Fleck 3/5, Howard Bowron (Penrith) 2/5, Joe Lennon (Glasgow) 2/5, Roger Staples (Middlesbrough) 2/5, Patricia Duke-Cox (Woodhall Spa) 1/5
Joe Lennon gained his Silver Merit award and David Millener had a handicap reduction from 12 to 10.
---