Georgeen Hemming won the Norwich Handicap Weekend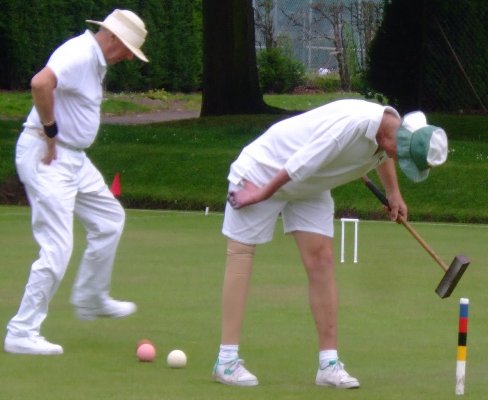 Neil Chalmers takes avoiding action from Jonathan Toye's shot (Photo: Ian Storey)
by Colin Hemming at Norwich Croquet Club
28 June 2009 (
AC - Handicap
)
Georgeen Hemming won the Norwich Handicap Weekend, her first tournament victory, and was presented with the "Chalkhill Mallet".
There were 12 competitors, with handicaps ranging from 2 to 20. Interestingly, the top and bottom of the list had the same surname: Colin Hemming at the bottom and newcomer Georgeen Hemming at the top.
Nine of the twelve competitors managed to complete three games on the first day; it was nearly eleven of them, but the game between Georgeen Hemming and Robert Halpin had to be pegged down with 51 minutes still on the clock. In the event, it was finished in nine minutes on the Sunday morning. Only local man Feargal Smith managed to fit in four games, becoming almost manic in his quest for that elusive first win and in reality setting what threatened to be a new low in the Egyptian index (69 points). Jonathan Toye, hampered by the peg, played an interesting hammer shot which would have done severe damage to Neil Chalmers who was still taking position to referee the shot and only just got out of the way in time. Overnight leaders were the three ladies present: Jane Collier on 126 points, Rosemary Bradshaw on 120 and Georgeen Hemming on 119.
Rain never threatened the play on the Sunday, and there was sunshine throughout the day. Most competitors completed the required two games, but three players managed one more, helped by a couple of games which were completed quickly. Most notably, David Wedmore demolished Colin Hemming +26 in 43 minutes. Remarkably, he used six of his 12 bisques to get through the first three hoops but then settled down and finished the first ball using only one more. His second ball took only three bisques, leaving two in hand: a remarkable performance. And he plays so quickly!
Meanwhile, the top of the table was still dominated by the ladies, but when all the games had finished the order had changed somewhat: First was Georgeen, with 133 points from five wins out of five; second was Rosemary with four out of four and third was Jane with four out of five. So Georgeen achieved her first tournament victory, was presented with the revered "Chalkhill Mallet" which was whisked away immediately and replaced by a small plaque as a memento.
And whilst all this was going on, there was some action at the bottom of the table too: Feargal saw his apparently dominant position (or should that be subservient position?) challenged and then overtaken by Colin; they both finished with 1 win out of 6, but the vagaries of the Egyptian scoring system meant that Feargal finished with 80 points and Colin only 65. So the leader board finished in just the same way as the list of entrants had started: Colin Hemming at the bottom and newcomer Georgeen Hemming at the top. Rather fitting, really.
---