Rutger Beijderwellen won the Open Championship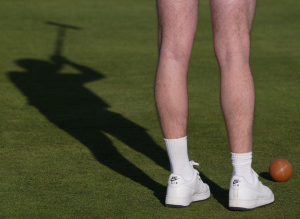 Rutger Beijderwellen won the Open Championship (Photo: Samir Patel)
by Samir Patel at Hurlingham
12/07/09 2009 (
AC - Championships
)
Rutger Beijderwellen won his first Open Championship, following the withdrawal of Chris Clarke due to injury. This is the first time in the event's 102 year history that the final has been decided in this way.
Ian Burridge and Jonathan Kirby won the Doubles Championship.
The knock-out has eight seeds, and was drawn so as to avoid players who have met in the Qualifying Swiss meeting in the early rounds. In the Qualifying (Burridge) Swiss:
Players winning a five games progress to the knock-out and do not play any further Swiss games
The Swiss continues for ten rounds (approximately twice the number of wins to qualify)
Players no longer able to achieve five wins are removed from the Swiss.
Reg Bamford *1

Reg Bamford
+26sxp +26qp

Reg Bamford
+26sxp +16sxp -3 -25tp +16sxp

Rutger Beijderwellen
+26tp -16tp +20tp +4tpo

Rutger Beijderwellen
Walk-over

Ian Burridge
James Death *8

Jonathan Kirby
+14otp -26tp +15tp

Jonathan Kirby
+14otp -17tp +12

Jonathan Kirby
Robin Brown
David Maugham *5

David Maugham
+25tp +3tp

David Maugham
+10tpo +26tp

Rutger Beijderwellen
+25tp -14tp +26tp -12tpo +15

Chris Farthing
David Bent

Mark Avery
+17tp +26tp

Mark Avery
Rutger Beijderwellen *4

Rutger Beijderwellen
+20tp +26tp

Jared Keeman
Chris Clarke *3

Chris Clarke
+23tp -17tp +15lstp

Chris Clarke
+24tp +26tp +26tp

Chris Clarke
+26tp -26sxp -16sxp +26tp +20tp

James Le Moignan
Stephen Mulliner *6

Stephen Mulliner
-14 +17sxp +12tpo

Stephen Mulliner
-10 +7otp +26qp

Samir Patel
Jeff Dawson

Tony Le Moignan
+26tp -26 +11tpo

Tony Le Moignan
Keith Aiton *7
Keith Aiton +18 +16

Robert Fulford
+25tp +26sxp +26tp

Marcus Evans
Robert Fulford *2

Robert Fulford
+26tp +12tpo

Robert Fulford +11 +11tpo
Chris Patmore
Leo McBride

Leo McBride
-15 +21 -17

Dave Kibble
---