Jack Davies won the National Seniors' Championship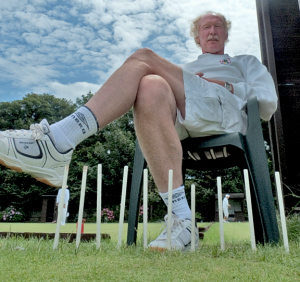 Kevin Carter, poised to take a turn in a handicap game at the Senior Championships at Southwick (Photo: Quiller Barrett)
by Nigel Graves at Sussex CCC (Southwick)
21 July 2009 (
AC - Championships
)
The Trevor Williams Cup for the National Seniors' Championship will have a new name on it after Jack Davies beat fellow Sussex clubmate Alan Cottle +17 +26 in a best-of- three final. This was sweet revenge for Jack, who earlier in the week with Jamie Angus, playing in his first CA tournament, had lost the Doubles to Alan and his partner Avril Rangoni-Machiavelli by -2.
In weather that was never quite as bad as forecast, the Colin Hemming Cup was won by Rodney Parkins, who beat Terrey Sparks +8 in the final, and the De Ansorena Cup by Pauline Davey, who beat Neil Coote +4T. The two lower blocks were won by Harry Bruford with 5/6 and Ron Atkinson with 3/5.
The Unrestricted Handicap Singles was played as an XY knockout; the Quiller Cup went to Gene Mears, who beat Peter Thompson +15, and the Y final was won by Ken Wood, who had to knock down 12 bisques to defeat Jill Carpenter by +9.
Grateful thanks are due to the Sussex County Croquet Club at Southwick, who provided good lawns with well-set hoops, first rate catering and beer in excellent condition. One moment of low comedy is perhaps worth reporting; a senior ex-member of Council, when trying to run an awkward hoop, lifted the hoop clean out of the ground with his mallet when following through, before letting it drop neatly back into its holes. The ball arrived safely on the non-playing side, but whether it can be said truly to have run the hoop is a moot point - one for the Laws Committee to rule on, perhaps?
---