Croquet Association team play on-board cruise ship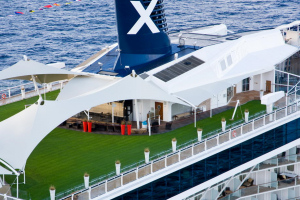 The first croquet tournament to take place afloat will take place on 25 July (Photo: Celebrity Cruises)
by Samir Patel at Southampton
25/07/09 2009 (
Other News
)
A new cruise ship with a lawn on the top deck for passengers to play croquet has sailed into Britain for its naming ceremony. The 2,850-guest, 122,000-tonne Celebrity Equinox will spend the next two weeks in Southampton for her inaugural celebrations. The £700 million ship features a real grass lawn on-board larger than eight tennis courts.
Celebrations in Southampton include the first ever Pro-Am croquet tournament to take place on the high seas on 25 July. The pro contingent for this event is led by Patricia Duke-Cox, Chairman of the Croquet Association and includes World Top Players Chris Clarke, Stephen Mulliner and Samir Patel, together with other international players and coaches.
Update
Stephan Mulliner reported:
Good quality "garden" hoops with half-inch uprights and no carrots were used which were pushed into the turf to a maximum of 4 inches.
The hoops performed adequately well, being helped by the slowness of the lawns and the CA players being briefed to avoid unnecessary violence. More to the point, the CA players were sensibly handicapped by a points system that offered three points for a hoop run by an amateur and only one point for one run by a "pro" and it was total points scored over six games that counted. Hence there was a strong incentive for the CA player to try and set up partner to score rather than taking an easy single point.
The hoops were set to about a quarter of an inch but the grass had enough devil in it to mean that few hoop shots were certain if attempted by an amateur from more than a yard. Having said that some spectacular flukes were pulled off by the amateurs to loud cheering from their supporters.
It was a really good PR event for both the ship and croquet and we all had a great time sampling cruising in the most modern cruise ship currently afloat. Many of the other guests had been on cruises before and said that this £700 million, 1000 foot long, 122,000 ton "monarch of the seas" was a cut above other cruise ships in terms of quality. The only possible drawback is that you have another 2,850 passengers and 1,250 plus crew and staff and, for some, that is a bit crowded!
the Celebrity Cruises news item
---