CA U-21 players return from Cairo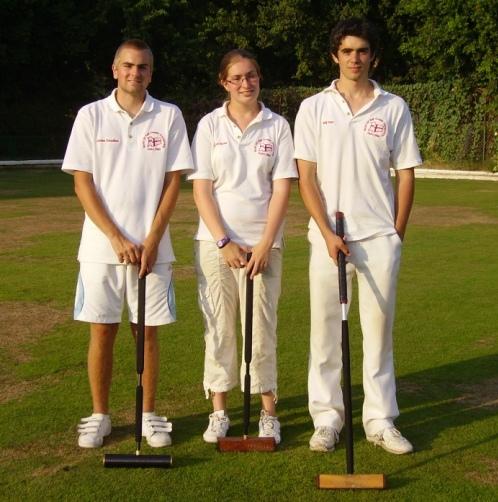 James, Rachel and Will in stylish national shirts (Photo: Mr. Goodbun)
by Tim King at Cairo, Egypt
2009-07-25 (
GC
)
Report [by Rachel Rowe and Will Gee]
There were three English players in the U21 World Championships, held at the Gezira Club, Cairo: Will Gee (Nottingham), James Goodbun (Ramsgate), Rachel Rowe (Ashby). There were four other countries present: Egypt, Ireland, Australia and New Zealand. The total was 31 players.
The club's three lawns offered very different playing conditions to what the English team were used to; each lawn had its own ball-boys and referees. In addition to this, the hoops were much firmer due to the large carrots, and got progressively narrower towards the top of the hoop. This made jump shots difficult, so jawsing the ball became far more powerful. The hospitality at the club was excellent, with sandwiches provided every day free of charge, and a Gala dinner after the Closing Ceremony. The nearby McDonalds also enjoyed a boom in trade from foreign players.
Play started in the morning of Saturday 18th July, after an opening ceremony. This and Sunday's play was block play, which determined at which stage you entered the knockout. Both Will and James won their respective blocks, immediately placing them into the last 16.
In the knockout stages, Rachel beat two of the four Egyptian girls to make her way into the top 16, before being beaten by Robert Fletcher. Robert then beat Will in the quarter finals, whilst in another quarter final James lost against the eventual winner, Duncan Dixon. James then went on to win his seeding knockout to finish 5th overall.
Final Positions
5th James Goodbun
8th Will Gee
13th Rachel Rowe
All the English players agreed it was a worthwhile experience and were particularly grateful for the bursaries provided by the CA under the new scheme encouraging Junior development.
---