Ian Lines Won The North of England Championship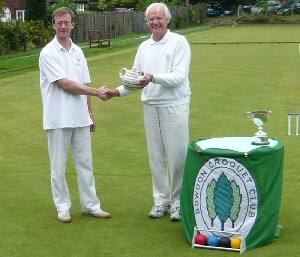 Ian Lines won the North of England Championship, defeating Rutger Beijderwellen in the final
by Ian Lines at Bowdon
28-31 August 2009 (
AC - Championships
)
Rutger Beijderwellen

Rutger Beijderwellen
+26tp, +15

Rutger Beijderwellen
-5, -17, +22sxp, +5tp, +26sxp

Rutger Beijderwellen
+4sxp, +25sxp, +19

Ian Lines
+26tp, -26tp, +23tp, -24, +18tp

Brian Storey
David Goacher

David Walters
+26, +17

David Walters
Marcus Evans

Marcus Evans
+14tp, -3, +12

Marcus Evans
+10tpo, +24sxp

James Hopgood
-26tp, +24tp, +20tp, -13tp, +9tp

Louise Bradforth
Andrew Gregory

Chris Williams
+19, +17

Chris Williams
Andrew Winn

James Hopgood
+20, -13, +7

James Hopgood
-22, +25, +26tp

James Hopgood
Steve Lewis

Steve Lewis
-14, +14, +16

Keith Aiton
Ian Lines

Ian Lines
+26, +26tp

Ian Lines
+20, +26

Ian Lines
+26tp, +26, +7

Ian Lines
+26tp, +26tp, +26tp

Martin Granger-Brown
Dave Kibble

Ailsa Lines
+15, +17

Ailsa Lines
Colin Irwin

Colin Irwin
+4, +12

Steve Comish
-26tp, +24tp, +17

Jerry Guest
Mike Sandler

Steve Comish
+26tp, +23tp

Steve Comish
Jonathan Hills

Jonathan Hills
+17tp, +26

David Maugham
+22, +25tp, +26tp

Martin French
Dave Nick

David Maugham
+25tp, +24

David Maugham
Ian Lines won the North of England Championship at Bowdon to win the Faulkner Cup, beating Rutger Beijderwellen +26tp, -26tp, +23tp, -24, +18tp in the final. It was Ian's first Regional Final, and the 4th time since 2005 that Rutger has been runner up at the Northerns. Rutger's first game win in the final brought Ian's run of 24 consecutive wins to an end.
The consolation plate was won by Ailsa Lines, who beat Chris Williams +21tp in the plate final, to win the Tollemache Plate.
Also of note was Steve Lewis's match win against Keith Aiton, James Hopgood getting to the semi-finals (beating Marcus Evans in the quarters), and David Walters almost beating Rutger Beijderwellen in the quarters.
Congratulations to the following for their handicap reductions:
Andrew Winn from -0.5 to -1
David Walters from -1 to -1.5
Some photos can be found at www.bowdoncroquet.co.uk/
Details of the final - as far as I can remember...
Game 1
(Ian won the toss and chose to go first)
1 IL to EB
2 RB 10 yard duffer
3 IL hits duffer and has Dream Leave
4 RB misses short shot
5 IL goes to 4-back with Diagonal Spread
6 RB misses short shot
7 IL finishes with standard tp to win +26tp
Game 2
(Rutger chose to go first)
1 RB supershot 5 yards SW of peg
2 IL misses gently from C1
3 RB hits (double?) and goes to 4-back with defensive Diagonal Spread
4 IL misses long lift
5 RB finishes with standard tp to win +26tp
Game 3
(IL chose to go first)
1 IL to EB
2 RB 11-yard duffer
3 IL misses duffer
4 RB hits duffer, has 1 pop before 1, but goes off lawn going to IL ball on EB after hoop 3! (possibly thinking about another pop)
5 IL blobs hoop 1! (hoops well set by Colin Irwin tight on 0.5mm, or 1/50")
6 RB misses 20-yarder from 2 to 1
7 IL goes to 4-back with Diagonal Spread
8 RB misses long lift
9 IL finishes with delayed tp to win +23tp
Game 4
(RB chose to go first)
1 RB supershot 3-yards SW of peg
2 IL lags 2-yards E of RB
3 RB lags 2-yards E of IL
4 IL misses from S boundary
5 RB goes to 1-back with a good ladies' leave
6 IL misses
7 RB rushes to position A at 3-back (after 4 peels of sxp) and fails angled hoop !
8 IL starts break but misses a 4-yard return roquet after hoop 3 !
9 RB hits 17 yard shot and finishes with straight double to win +24
Game 5
(IL chose to go first)
1 IL to EB
2 RB 12.5 yard duffer
3 IL misses partner on EB leaving 'double' with gap of 1.5 balls
4 RB hits 'double' from S boundary (though probably aimed at a ball), goes to 1-back with not ideal ladies' leave (not quite in jaws at 1-back, and one of IL's balls only 2-yards off S boundary)
5 IL misses
6 RB does the first peel but is hampered after 1!
7 IL goes to 4-back with Diagonal Spread
8 RB misses long lift
9 IL finishes with delayed tp to win +18tp
---