Reg Bamford won the Ascot Cup (GC English National Singles)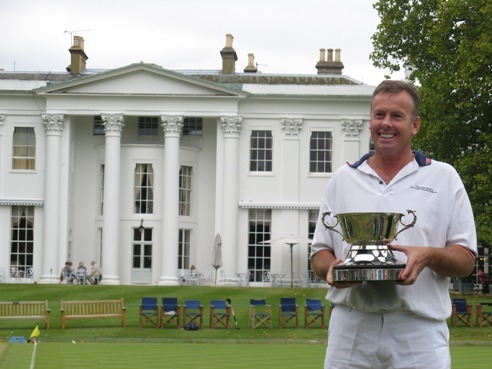 Reg Bamford holds the Ascot Cup in front of the Hurlingham club house (Photo: Tim King)
by Tim King at Hurlingham
2009-09-20 (
GC - Championships
)
Reg Bamford achieved a reverse of the result in the 2008 Ascot Cup final and beat Robert Fulford in two straight games. Manager Richard Hoskyns repeated the format for the Championship from that previous year. Four blocks consisted of four players and were each all-play-all on the Saturday. Then the top two from each block took their places in the main knockout on the Sunday.
The 2009 Championship had some distinctive features. First was a sense of Reg (first seed), Rob (second) and then the rest. Almost all the remaining fourteen players each probably had a feeling of being able to beat any of the others. Unfortunately, the Association Croquet World Championship in May appeared to have left some of the top players with too little time to play enough Golf Croquet during the season and qualify for the Ascot Cup. However, by way of welcome compensation was the participation of three of the cadre of impressive younger players who have emerged in 2009 onto the Golf Croquet scene. Furthermore, Howard Cheyne, Jacob Carr and Ryan Cabble were seeds four to six and, thus, could not play against Reg or Rob until the semi-finals.
On the Saturday, Reg and Rob played to their expected potential, neither dropping a game in three best-of-three matches each. Mark Hamilton faltered against sixteenth seed Jim Gregory but eventually gained second place behind Reg in block A on net games from Jim and Chris Sheen. Tim King had some chances against Rob but could not follow through and finished second in block B, having beaten both Derek Old and Bill Arliss.
The greater uncertainty was in blocks C and D. Ivor Brand was third seed overall, top in block C. He started with an expected win over Mike O'Brian in the first round of matches (7-6, 7-6) and outplayed (7-2) Nelson Morrow in the first game of the next round. However, Nelson used lunch to regain his composure and fought back 7-5, 7-6 to take the match. Meanwhile, Mike O'Brian beat Ryan Cabble 7-6, 7-6 and, thus, the four players had one win each going into the final round. Ryan showed no fear and defeated a mis-firing Ivor 7-3, 7-4. Nelson and Mike had a closer battle, the latter coming out on top 7-3, 5-7, 7-5.
Results in Block D followed the seeding predictions in the first two rounds of matches. Thus, Ray Mounfield and Richard Thompson had to battle out for bottom of the block. Richard never really found form all day and lost 5-7, 3-7. And, unsurprisingly, having both qualified by that stage, the fourth and fifth seeds (Howard Cheyne and Jacob Carr, respectively) contested a close final match, to determine their places in the knockout. Howard won 7-3, 3-7, 7-6.
Thus, the quarter-finals really only contained one unexpected participant: Mike O'Brian. This was thoroughly deserved as Mike has shown decent form at times over recent years. He also attracted attention as the other players began to realise that while deceptively similar to those of certain other makers, Mike was actually wielding a self-designed, self-engineered mallet, which was demonstrating some compelling characteristics in terms of aesthetics and performance.
Mark and Tim knew that their block seeding was going to leave them with difficult quarter-final matches. Both of them played with decent composure but Rob and Reg eventually achieved the expected results, 7-5, 7-5 and 7-4, 7-5, respectively. Again, the C and D blocks left that part of draw far more difficult to predict. However, Howard and Jacob were the ones to edge ahead. Howard and Ryan had a close battle in the first game and having been successful, the former then was more comfortable in the second. The result was 7-6, 7-4. Mike O'Brian was only just short of taking Jacob to a third game but the latter prevailed 7-4, 7-6.
So, at last, the semi-finals arrived with a sense of expectancy in the air. How far had the young guns progressed in this a formative season? Jacob seemed to struggle the most. Rob took the first game in relatively short time and with a very comfortable 7-2 margin. Howard put up more resistance, not least during a long battle over hoop five, where he had a short hoop shot to take a 3-2 lead and missed. Reg began to turn the screw and, while not as quickly as in the other semi-final, the 7-3 margin was comprehensive and boded for a swift completion of both matches. However, something suddenly changed.
Like the tough champions that they will undoubtedly will become (surely rather than Rob and Reg showing any signs of complacency), Jacob and Howard found focus and drive. First the former and then the latter, they took 4-1 leads in their respective second games. And the parallels continued. Each of their opponents put a ball into the jaws of hoop six; a pair of crucial positions. And arguably (but so much more easy to say from the sidelines), the youngsters failed to spot the best play. Jacob was quite far back from the hoop and only had a chance if he used the bouncing bomb version of the jump shot. He did run the hoop but also dragged Rob's ball through, losing the point and conceding first approach to hoop seven. In Howard's case, the jump shot distance was not so great. He failed his attempt, while not peeling the opponent through. However, this had not disrupted the perfect position for Reg to perform his own peel, with the peeler ending up (onside) very close to hoop seven. Two tides had turned. The older men found some control and showed all their experience in taking their second games 7-5.
Hence, the final was as expected: Reg versus Rob. The long-range clearances they played in the match were as least as impressive as they had achieved at any other stage of the weekend. However, each also showed the same slight weaknesses as in previous games. Inexplicably, every once in a while, Reg would fall short on shots to position, either failing to end up able to run the hoop or to block the opponent's shot. Rob on the other hand, was missing the occasional hoop. This appears to be an occupational hazard of his mode of play in Golf Croquet being slightly different to that in Association Croquet. However, the expectation was for a close match and, with the early hoops being traded one for one, the crowd of over 50 individuals watched intently.
The crux of the match was probably Rob missing a short hoop when he had the chance to take a 5-3 lead in the first game. Consequently, Reg stayed in touch until 5-5 and then won the next two hoops. In the second game, Rob continued to fail more hoops than he would normally expect. As a result, Reg tended to be clearing to create pressure whereas Rob was clearing to stay in the hoop. To his great credit, he succeeded multiple times but, gradually, Reg turned the screw and when he achieved one particular clearance at hoop eight, he expressed his delight in setting up a chance for 6-2, knowing he was not far from the title. The victory duly followed at the next hoop. 7-5, 7-2 is a wide margin for this pair of players, who have graced previous finals with several 7-6 games, twice in the deciding, third game.
Reg was in dominant form, winning twelve straight games. His opponents scored an average of 3.5 points per game against him and the most hoops any one player scored in the match was nine.
The 2010 Ascot Cup will take place at Ryde Croquet Club.
---