Stephen Mulliner won the Australian Open Championship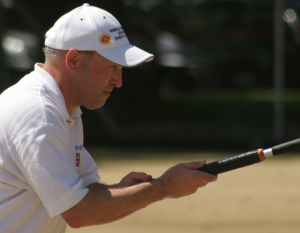 Stephen Mulliner in play (taken from the 2008 World Championship Quarter Finals) (Photo: Samir Patel)
by Chris Williams
8th November 2009 (
International
)
Congratulations to Stephen Mulliner on his win in the Australian Open, which makes him only the third player after Robert Fulford and Chris Clarke to win all three of the major Open Championships.
Stephen is current holder of the New Zealand title and has won the (British) Open Championship on three occasions (1988 1990 2000)
He beat Marty Clarke +4 +21 +26tp www.croquet-australia.com.au/../knockout.html
Australian Open final
Semi-Finals Report
by Stephen Mulliner
Any doubts about the wisdom of starting the final at 0700 were dispelled by lunchtime. By 2 p.m., the temperature in the sun was approaching 40 degrees and I was very relieved that play was wrapped up. This has been an unseasonably hot period for South Australia and next week is forecast to be even hotter. Court 2 at Hutt Road was slightly bobbly today and, given rigid, tight hoops, provided more than enough challenge for both the finalists, Martin Clarke (WA) and Stephen Mulliner (Eng). Put simply, trying for forward rushes out of hoops was daft unless you got within 6 inches of the hoop and hoop 6/penult proved to be the most difficult of the lot.
Game 1 was the most interactive. It looked like being +26 to Stephen but he failed penult twice when going out and Martin was able to take a ball round and attempt a delayed TP which came to grief when he over-rolled rover. His attempted scatter only succeeded in shortening the lift shot to 4 yards and Stephen had a third go at approaching and running penult with Y. This time it had the decency to bounce back into easy running position hidden from Martin's K and, when he missed a 14 yarder at B near 2-back, Stephen ran it down to past rover, hit R on the E boundary, made rover off B and finished +4.
In game 2, Stephen hit the duffer tice in turn 3 and laid the dream leave. Martin missed and Stephen went to 4-b with an NSL and looked to have a delayed TP done and dusted when he tried a slightly angled Irish peel at rover. However, Y caught a little wire and caused R to be deflected to the side, forcing it to retreat to C2. Martin got going with some adventurous hoop approaches but came to grief rather oddly at hoop 6. He had rushed R almost into the jaws and elected to Irish peel it gently. Alas, it failed to clear the jaws in the croquet stroke and his K ended up only 1 cm behind R. He decided that he could not play a clean hoop stoke and scattered Y, which was near 1-b, to the W boundary while K went to 2 yards E of C2, leaving B 1 yard NE of 2-b and R with a wiring lift. Stephen lifted R and hit K from B-baulk and finished +21.
Game 3 was a comparatively routine 6th turn +26tp except for the fact that Y continued its hate affair with penult and survived three peeling attempts before finally succumbing to a straight double finish.
The challenge presented by the court conditions later in the week was definitely stiff enough to demand total concentration when playing breaks and this was welcomed by all the players. However, the Hutt Road lawn speeds never exceeded 9 seconds and this has the serious disadvantage that such conditions discriminate significantly against the less physically strong players. The Players' Meeting held on Monday agreed several recommendations, one of which was that the ACA should request minimum playing speeds of 10 Plummers. Hopefully this will be implemented.
All in all, the event was very enjoyable with a great atmosphere, efficient administration, superb (and good value) catering and no time issues of any sort. Paddy Chapman and Miranda Morgan were popular winners of the Doubles and ABC ran two radio interviews, the second of which was devoted to the Fletcher family story and was felt to be excellent publicity for the sport and its potenial appeal to young players.
Semi-Finals Report
by Stephen Mulliner
SACA HQ, Hutt Road
It was certainly very hot today, reaching at least 33 degrees albeit tempered slightly by a gentle breeze. Ken Bald did an excellent job with the hoops so all four players had to treat them with considerable respect. The courts have continued to quicken a little but haven't changed in character.
Game 1 of Mulliner/Fleming had plenty of interest and took 2.5 hours (which was slightly more than the other semi-final needed for its first two games!). Stephen went to 4-back with an NSL, Bruce missed and Stephen completed one peel before making the error of trying to get control out of 1-b and stuck. Bruce hit, went to 4-b with an NSL, survived the lift and was preparing for his delayed TP when he took off short to the hoop 5 pioneer, had to approach from 4 yards and failed the hoop. Stephen made 1-b with B but took off the lawn and Bruce replied by taking his 4-b ball to the peg. The lift was missed by the proverbial coat of paint and Bruce looked set for a straightforward 4-ball break to take the game. But he got slightly angled at 1-b and stuck. Stephen took K to the peg, pegged out R and prevailed shortly thereafter +6. Bruce's shooting let him down in the next two games and Stephen took both without reply, completing two peels of a bombard STP in game 3.
The Martin Clarke/Trevor Bassett match was a closer affair with Martin's excellent shooting giving him the decisive edge. Being otherwise occupied two lawns away, I have only a sketchy knowledge of what went on in games 1 to 3. However, the scores of +8, -26tp, +3, +17 tell a good story. Trevor squared the match at 1-1 with a bloodless TP and reached peg and 4-b in game 3 before Martin hit, took a ball round and pegged Trevor out. There was then a cat-and-mouse period in which Trevor managed only one hoop before Martin got home. Martin had the early advantage in game 4 and reached peg and penult before Trevor hit and went to 4-b with an NSL. However, Martin hit the short lift and finished to seal an excellent win.
We start tomorrow at 7 a.m. because it is meant to get even hotter!
---