CA v CAI juniors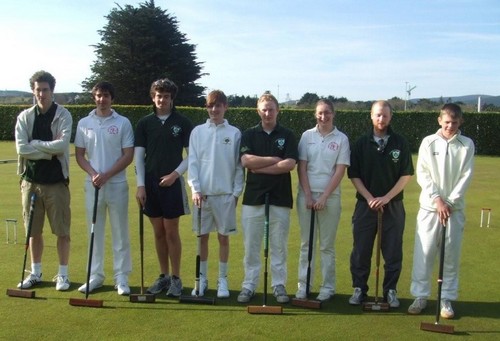 Juniors in Ireland (Photo: Jeff Race)
by Patricia Duke-Cox at Carrickmines Croquet and Lawn Tennis Club
12 April 2010 (
International
)
CAI beat CA Juniors.
by Will Gee at Carrickmines CLTC 12 April 2010
The third CA vs CAI Junior match was contested 10-11 April at Carrickmines, Ireland. The size of teams for this competition was set at four instead of the usual six, and like the second match, both Association and Golf Croquet were played. The format was similar to the Association Inter-club, with the extra round of doubles.
The teams were: CA: Will Gee (C), Rachel Rowe, Jacob Carr and Timothy Race and for CAI: Danny Johnston (C), Kieran Murphy, Ben Harris and Jack Clingan
The Association section of the tournament was played on Saturday, and by lunchtime, the Irish had taken an early and convincing lead of 5-0. The afternoon's play was more evenly matched, each team winning two of the four singles. The day ended 7-2 in Ireland's favour.
Golf was contested on Sunday, and that day's play saw a determined struggle for every game by both sides. But given the formidable Irish lead, there was little the CA team could do, and despite their very best efforts, the Irish won the Golf 5-4 to win the overall match with a convincing 12-6 tally.
As usual, the Irish team were excellent hosts, and many thanks are due to Carrickmines Croquet and Lawn Tennis Club for hosting us at short notice, as well to Simon Williams for managing and refereeing a vast number of shots. The CA team is now looking forward to hosting the return match in 2011.
Results:
Day 1: Association Croquet
Murphy & Clingan beat Gee & Race +7
Johnston & Harris beat Rowe & Carr +20
Murphy & Johnston beat Gee & Rowe+8
Harris beat Carr +14
Clingan beat Race +1
Murphy lost to Gee -3t
Johnston beat Rowe +4
Harris beat Race +16
Clingan lost to Carr -17
CAI 7 , CA 2
Day 2: Golf Croquet
Murphy & Clingan beat Race & Carr 7-6, 6-7, 7-6
Johnston & Harris beat Rowe & Gee 6-7, 7-5, 7-6
Murphy & Johnston lost to Gee & Carr 0-7, 5-7
Harris beat Race 7-5, 3-7, 7-4
Clingan lost to Rowe 3-7, 3-7
Murphy lost to Carr 4-7, 7-4, 6-7
Johnston lost to Gee 3-7, 7-2, 4-7
Harris beat Rowe 7-4, 7-5
Clingan beat Race 7-6, 7-4
CAI 5 , CA 4
Overall - CAI 12, CA 6
---