Hamptworth Now a Four Lawn Croquet Club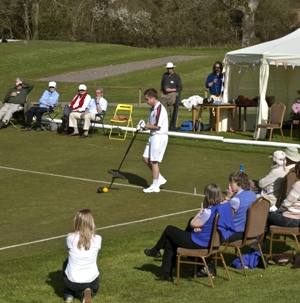 David Maugham playing on the new Hamptworth Lawns (Photo: Quiller Barrett)
by Quiller Barrett at Hamptworth Croquet Club
17 April 2009 2010 (
Other News
)
CA President, Quiller Barrett, officially opened two new lawns and a spectacular new pavilion at Hamptworth Croquet Club, midway between Salisbury and Southampton, on Saturday 17 April.
The Croquet Association has helped to finance these improvements and he warmly congratulated the club's Life President, Richard Stevens, and the members on their enterprise in promoting Hamptworth to 4-lawn status. The club is already committed to holding additional courses and open tournaments this year.
About 100 members and friends then enjoyed watching exhibition matches of Golf and Association croquet played between Rutger Beijderwellen and David Maugham who will be doubles partners in the GB team in the MacRobertson Shield in August.
---