Rob Fulford won the Colchester Open weekend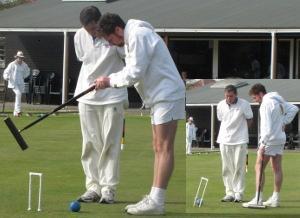 "before and after" (Photo: Susan Fulford)
by Dave Kibble at Colchester
27th April 2010 (
AC
)
Rob Fulford won the Colchester Open weekend by the slightest of margins - who beat whom over Dave Maugham after both players finished on 6/8.
Rutger Beijderwellen had set the early pace with four straight +26TPs the last against Rob. This run was stopped in Rutger's next game by Dave taking a ball round second turn before failing rover. Rutger hit but was left a very angled hoop 2 which he failed lifting the hoop out of the ground! Dave completed his single peel to win 4th turn.
Rutger was still looking good into the last round with Rutger, Rob and Dave all on 2 loses but Rutger crucially having got through an extra game thanks to his clinical play on day 1. However he fell at the last hurdle to Jack Wicks, making his comeback after a year off. (Quote of the tournament - Jack in self congratulation after hitting a long roquet, "It's like I've never been away!").
Phil Eardley was only available to play on Saturday but clocked up 3 wins and a cut to minus 0.5.
Final Results
Wins
Loses
Rob Fulford
6
2
2TPS, 1TPO, 1SXP, 1QNP
David Maugham
6
2
4TPS
Phil Eardley
3
1
1TP
Rutger Beijderwellen
6
3
4TPS
Mark Avery
6
4
4TPS
Jack Wicks
4
3
1TP
Keith Aiton
4
4
2TPS, 1OTP
Martin French
4
4
1TP
Jonathan Hills
4
6
1TP
Ailsa Lines
2
4
Gabrielle Higgins
2
4
Andrew Gregory
2
4
Sam Tudor
1
3
Martin Leach
0
6
---