Simon Carter won the East Anglian Golf Croquet Tournament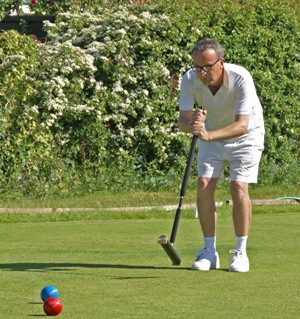 Simon Carter at the East Anglian Croquet Tournament (Photo: Chris Sheen)
by Chris Sheen at Colchester Croquet Club
23 May 2010 (
GC
)
Simon Carter won the East Anglian Golf Croquet Tournament.
It was a glorious weekend at Colchester, totally different from last year, but that's where the differences end! It was Simon Carter again who successfully defended his title, this time defeating his Dulwich club-mate Pierre Beaudry.
Both of them had fought through two really tight blocks of eight playing each other twice. Of the 28 games in each block almost 50% were tied one apiece. Both Pierre & Simon played in the same block, the former actually winning most games. From the other block, Marcus Evans & Don Beck won through, in that order, but both lost tight games to their opponents in the semi-finals.
The final itself was a demonstration of straight shooting by Simon who reasonably comfortable beat his friend Pierre. It was good to see a first time tournament entrant Ann Brookes who improved immensely over the course of the weekend and wasn't dispirited as results went against her, and we were pleased to welcome James Hopgood who made the long journey down from Edinburgh.
Ascot points were awarded to Pierre Beaudry (runner-up), Don Beck (3rd) & Marcus Evans (4th)
---