Somerset won the 96th AC Inter-County Championship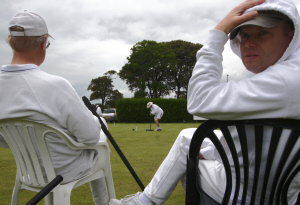 Ed Duckworth of Somerset (Photo: Samir Patel)
by Sue Mackay at Sussex CCC and Compton CC
01/06/2010 (
AC - Championships
)
Somerset won the 96th Inter Counties Championship for the second time in three years. Their team of Kristian Chambers, Ed Duckworth, Marcus Evans, Jim Field, David Goacher and Roger Jenkins were unbeaten for the first three days, but as the last day got under way there was a mathematical chance that Nottinghamshire, last year's winners, could catch them. Somerset's superior game tally meant, however, that they would need to lose both matches on the final day by 0-3 to see the trophy slip away from them. They did in fact lose their first match to Lancashire, but as they lost it 1-2 their ultimate victory was assured, and in the end they finished top anyway with 9 match wins to Nottinghamshire's 8.
The race for the Second Division title was much closer, and was undecided until the last game to finish. Hertfordshire, relegated last year, had been at the top of the leader board for the first three days, but had faltered against Sussex and Dorset, and with a bye in the last round could do no better than 8 match wins and 20 game wins. Both Dorset and Sussex could overtake them with a better game tally, and they were playing each other at the start of the final day. Sussex were without Rutger Beijderwellen on Tuesday, but they put up a good fight. Dorset won the encounter 2-1 in the last turn after time, putting Dorset on 8 wins and Sussex on 7. Sussex needed to win their last match against the Channel Islands, which they did, but they also needed Dorset to lose 0-3 to Yorkshire. With the score 2-0 to Yorkshire it all depended on whether Dorset could win the final game. David Harrison-Wood and William Ormerod had started late, their previous game having gone the distance, and as time was called David Harrison-Wood had the opportunity to finish. Despite the pressure of the situation, David pegged out, ensuring that Dorset finished as champions on the "who beat whom" rule. Their team of Charlie Askew, John Crowe, David Harrison-Wood, David Kendrick, David G.A. Nicholson, William Ormerod, Dave Trimmer and Pete Trimmer otherwise had an identical match/game win total to Sussex, who were also promoted to Division One next season, along with Hertfordshire.
Relegation battles have been an enthralling part of the Inter Counties in the final stages since the introduction of the two division system. Bedfordshire won the Second Division in 2009 in fine style, but found it tough in the top division, especially as they were without Ben Ashwell. Even Jon Watson's lucky socks (in croquet coloured stripes) failed him eventually, and he lost his first game after a winning streak of 18 consecutive games at the Counties. Bedfordshire duly came bottom of the First Division and were relegated, but they did have had two match wins, against Gloucestershire and Essex, the other two relegated teams. Essex have been without Robert Fulford for the last two years, and came dangerously close to relegation last season. They won a game in every match they played, but only twice, against Surrey and Middlesex, could they manage to get two wins in the same match, with the result that they will be in Division Two next season.
The third relegation place was wide open until the very end. At the start of the final day Gloucestershire had 3 wins but there were four teams (Surrey, Suffolk, Middlesex and Glamorgan) with only 4 wins, and all these teams had a mathematical chance of being relegated. Gloucestershire had managed one win on each of the first three days, despite having to concede a game when Louise Bradforth was taken ill overnight. Their final game was against Middlesex, which they needed to win 3-0, but Nick Parish and Eugene Chang won their game and allowed Middlesex off the hook on game difference. Middlesex had started really well, winning three games on the first day, and their players were observed taking photographs of Middlesex at the top of the leader board on the second morning. Tempting fate? There was a CA Select team playing in the event to make up the numbers, although as most of their players came from Sussex some of the local spectators did get a bit confused, especially when CA Select played Sussex. Berkshire also made a welcome return to the Counties, this time as Berkshire/Oxfordshire (a county combination with a history in the event, as Berks/Oxon won the Championship in 1974, 1975 and 1981) and at Compton on Bank Holiday Monday Martin Burger and Joe King once more paired up to form the famous Burger King partnership. Berks/Oxon and the CA Select only had two match wins each, but the wooden spoon this year went to Wiltshire, whose only win came against Berks/Oxon in their very first match.
The vagaries of the English climate meant that it was cold and wet on the Saturday and Tuesday but dry and sunny for the middle two days. Spectators from inside the clubhouse could gauge the weather, however, by noting whether Dean Bennison of Nottinghamshire was sporting a bowler hat or a Stetson. Many teams wore shirts with county logos on, but the Middlesex team shirts also had "Makes Breaks and Leaves" written on the back - delightfully ambiguous in view of their near brush with relegation.
There were some very exciting finishes at Compton on the Monday. Dave Kibble of Gloucestershire did a very good combination peg out in one game. In another, Yorkshire's Robert Wilkinson had come from behind as time was called to make a long break and peg out, leaving his team one ahead, with his partner on penult and Sussex on penult and peg. Paul Castell hit in on the final turn and only needed to peg out to take the game to sudden death, but he took off to his partner ball, rushed it to penult and succeeded in peeling it to level the scores. Unfortunately his partner ball ended up exactly between his own ball and the peg, but he managed to jump over it and peg out to win +1T. Meanwhile on an adjacent lawn Ian Burridge of Glamorgan had done a DPO and then pegged himself out, leaving partner Kevin Ham well ahead against Mike Porter of Essex. Mike constantly hit in, however, and managed to level the scores by running 4-back with his last shot after time. Kevin did eventually run the golden hoop, to much cheering, but this was nothing compared to the cheers that greeted Kevin at the end of his final game on Tuesday.
David Mooney of Surrey had gone to 4-back and Kevin had got round to 2-back for Glamorgan. Ian Burridge attempted a quintuple, but failed the penult peel twice. He eventually peeled Kevin through penult, but only after running rover, so pegged himself out to ensure that if Jeff Dawson hit the lift he would have to do a three ball triple. Jeff declined the triple and went to peg, and his partner then got to peg and laid up in Corner 3 with a rush to finish. Kevin hit in from Corner 1 and rushed green to rover, but his approach shot was not quite good enough and he took position in front of the hoop, with green wired on the other side. Green retreated to give Surrey a perfect rush to the peg once again from Corner 3. Kevin ran rover, but the hoop was now between him and the peg. He then did a spectacular jump shot over rover to hit the peg smack in the middle. This ensured Glamorgan finished in fourth place overall, their best ever position in the Counties.
The final day brought drama both on and off the lawns. Players driving to Southwick from the A27 in the morning were treated to the sight of a police car with flashing lights which had pulled over a certain small, rotund gentleman from the Lancashire team for not having a tax disc. (It was June 1st). This did seem to inspire Lancashire, however, as shortly afterwards they became the only team to beat Somerset. Meanwhile Jeff Dawson of Surrey found himself playing on his own against Essex. His partner David Mooney arrived an hour late to be told he was on Hoop 4 - apparently he had managed to lock his car keys in the boot of his car. The Dorset team must have been particularly glad to triumph on the final day, as the fire alarm had gone off at 5:30am in their hotel, resulting in some bleary eyes.
The Counties was, as usual, a tremendous festival of croquet. All the teams had at least one win, and a good time was had by all. The catering at Southwick and Compton was superb as ever, and thanks are also due to the ground staff at both venues. Thanks also to Chris Williams for managing the event, and to Bill Arliss, Jeff Dawson, Colin Irwin, Ian Lines and David Walters for managerial/ROT duties at either Southwick or Compton on the various days.
Division 1
| Team | Wins | Games |
| --- | --- | --- |
| Somerset | 9 | 23 |
| Nottinghamshire | 8 | 20 |
| Lancashire | 6 | 16 |
| Glamorgan | 6 | 16 |
| Suffolk | 5 | 16 |
| Cheshire | 5 | 16 |
| Surrey | 4 | 16 |
| Middlesex | 4 | 13 |
| Gloucestershire | 4 | 11 |
| Essex | 2 | 12 |
| Bedfordshire | 2 | 6 |
Division 2
| Team | Wins | Games |
| --- | --- | --- |
| Dorset | 8 | 23 |
| Sussex | 8 | 23 |
| Hertfordshire | 8 | 20 |
| Channel Islands | 6 | 18 |
| Yorkshire | 6 | 16 |
| Kent | 6 | 15 |
| Hampshire | 5 | 15 |
| Warwickshire | 3 | 12 |
| Berks/Oxon | 2 | 10 |
| CA Select | 2 | 7 |
| Wiltshire | 1 | 6 |
---