England beat Ireland 5-4 in the McWeeney
[<<] [>>] by Dave Kibble
23rd July 2001 (International)
England recovered possession of the McWeeney silver cigar box at Cheltenham yesterday after a run of four Irish wins; non-playing captain, Dave Kibble, said there was no significance in this being the first time he has not played in the contest for four years.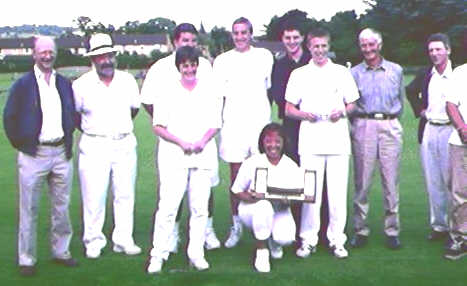 Most of the English CA team were making their debut - 16-year old Marcus Evans (4.5) acquitted himself well by completing a straight triple peel in the doubles, guided by Andrew Cowing. This turn earned Marcus the coveted Ian Maugham Memorial Couche (or quaich - a two-handled silver drinking cup) trophy for "Man of the Match" - the trophy, appropriately, is small, precious and easy to fill with alcohol.
Deborah Forrington (11) considered herself too inexperienced for the event but won 2-0 in the singles. This was the first time Marcus or Deborah had played an advanced rules tournament.
Alan Bogle made his comeback to playing for England after 11 years by guiding Deborah to victory in the doubles but managed to lose to Jane Shorten in a close match filled with good shooting. Martin Gill and Robert Barklie had three close games, which could have gone either way, but Robert emerged on time as the winner. Colin Hemming also had a tussle but pulled ahead in each of the two games that went to time.
Colin Hemming and Deborah each earned handicap reductions, 4.5 and 10 respectively.
Results
| | | | |
| --- | --- | --- | --- |
| Andrew Cowing (0.5) & Marcus Evans (6) | beat | Andrew Johnston (1.5) & Jane Shorten (2) | +3 +17STP (E) |
| Martin Gill (2.5) & Colin Hemming (5) | lost to | Robert Barklie (1) & Harry Johnston (6) | -3 +13 +2t |
| Alan Bogle (5) & Deborah Forrington (11) | beat | Evan Newell (1) & Brian Harris (8) | -15 +12 +4 |
| Andrew Cowing (0.5) | beat | Evan Newell (1) | -18 +11 +25 |
| Martin Gill (2.5) | Lost to | Robert Barklie (1) | +6 -4 +7t |
| Marcus Evans (4.5) | Lost to | Andrew Johnston (1.5) | -18 +14 +21 |
| Alan Bogle (5) | Lost to | Jane Shorten (2) | -3 +9 +22 |
| Colin Hemming (5) | beat | Harry Johnston (6) | +5t +6t |
| Deborah Forrington (11) | beat | Brian Harris (8) | +24 +22 |
---