Stephen Mulliner wins the 2010 Golf Croquet Open Championship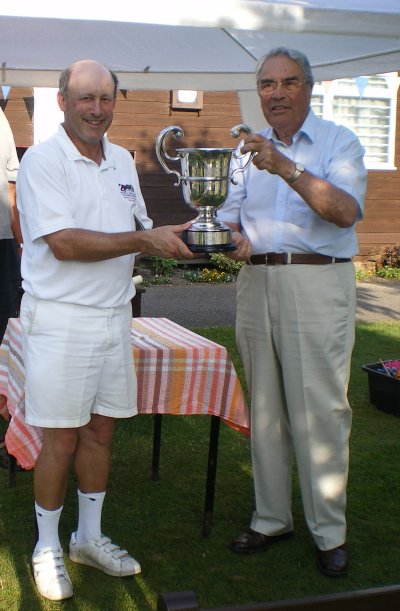 CA President, Quiller Barrett, presents the Delves Broughton Trophy to Stephen Mulliner (Photo: Derek Old)
by Bill Arliss at Southwick
28 June 2010 (
GC - Championships
)
The eleventh Open Golf Croquet Championship was held at Southwick over the weekend with hot blazing sun for all four days and the full complement of 28 players taking part. However the expected clash of the Titans in the final, Bamford and Mulliner, did not happen this year. All went according to plan up to the semi-final when Stephen Mulliner met Howard Cheyne and Reg Bamford met Tim King. Obviously Tim had not read the script and managed to take out Reg in two straight games but with both players demonstrating some superb shooting. Howard nearly upset the plan 100% by taking the first game against Stephen but Stephen fought back to take the next two.
Stephen's experience showed in the final with a two straight victory over Tim. Both players had some difficulty with the extremely unforgiving hoops in the final All hoops had been moved to new holes prior to the final and were extremely firm and shootouts from the boundary could take several attempts.
The Open Doubles was also a Mulliner/King success with this new pairing taking the title.
The Plate event was run as a flexible Swiss with the top four playing off for the trophy which was won by Ray Mounfield with a 10-9 victory over Nick Cheyne. This was almost a Mounfield family affair as Nick just managed to beat Ray's wife Chris in the semifinal by 10-9.
---