GB beat USA 12-9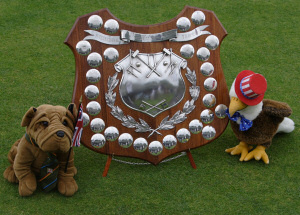 The MacRobertson Sheild (Photo: Samir Patel)
by Chris Clarke at Bowdon
11th August 2010 (
The MacRobertson Shield
)
This was good test match croquet. It had high quality turns combined with tense error strewn play. The USA team played very much to the standard I had expected, but GB were struggling in places. It was certainly a relief to crawl over the winning line at 5pm on day 5.
I thought Huneycutt played well for the first 4 days and had he finished his TP against Fulford, things might have been different.
Rothman had a poor test match until today where he pulled out some good play when the team really needed it.
Lamm was probably the most impressive compared to my expectations and Doug's performance today was very good.
Fulford had a solid test without ever looking at his best and Rutger played better every day. However top marks go to Lines who had a great debut... well done. Stephen produced a good win today when we needed it.
I sensed from the reports that the standard of play was getting gradually better at Bowdon whilst at Heaton Park, it might be getting worse.
The USA will go into their match against Australia full of confidence.
GB will go into their match against NZ with a sense of relief.
Thanks to the Bowdon club for putting on a great event and the many volunteers who have made it happen.
Full details on the Mac website www.macrobertsonshield2010.org/ where you can follow the test at Nottingham - or capture the mood at Bowdon with www.youtube.com/watch?v=P4qwT3zKvpc
Chris Williams adds:
GB's win over the USA was their 6th win in 6 MacRobertson tests against the USA.
NZ's win over Australia was their 17th in 31 tests against Australia.
Robert Fulford's wins in both singles takes his singles record to 32 match wins out of 35. Only Richard Baker, Toby Garrison and Aaron Westerby, all from NZ, have beaten him. Robert has also won 43 out of 51 doubles matches
David Maugham has a surprisingly poor singles record against Americans having won only 6 out of 11 matches against them. This compares with 7/9 against Australians and 10/11 against NZ.
Stephen Mulliner's poor doubles record continues with now 19 wins in 33 matches (57%) compared with his singles win percentage of 68%. For the record Robert Fulford's doubles percentage is 84% and David Maugham's is 73%
Great Britain have now won 19 MacRobertson test matches in a row, with the last 14 being full 21 match tests. GB last lost a MacRobertson test in July 1986.
Robert Fulford's two wins today combined with Paddy Chapman's two defeats means that Robert has just held onto third place in the World Rankings.
www.croquetrecords.com/records/mac/
---