GB beat New Zealand 11-10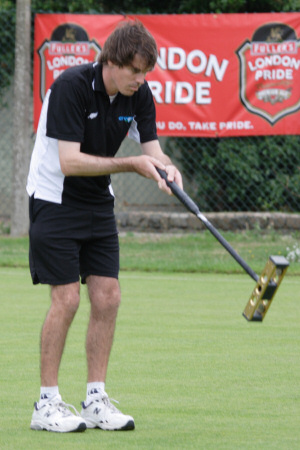 Aaron Westerby, captain of New Zealand, in play during the final test at Surbiton (Photo: Samir Patel)
by Chris Clarke at Nottingham
21st August 2010 (
The MacRobertson Shield
)
Why is the MacRobertson Shield the pinnacle of croquet? Because of days like today.
But perhaps we ought to go back to last night when GB led 10-4 and were break up in the decider against Bryant and Clarke. Had this pair not hit the lift and finished in two turns, everything that followed could have been brushed aside as "well GB weren't trying". The fact is that the NZ pair did hit and finish in 2 turns, the overnight score was 10-5 and GB were trying.
I spoke with Aaron at the end of the Test and suggested that the result was 70% NZ good play and 30% GB poor play. Aaron felt it was more like 60/40 - so we had some rough agreement.
But let's go back to today's events. GB lost 1-5, but that understates it. In fact, we really got stuffed. Westerby won 2-0, Skinley won 2-0, Bryant won 2-0. Fulford played a brilliant first game and still lost 2-1.
For those readers who are improving, let Keith Aiton's performance be a lesson. He couldn't hit a barn door to save his life, but years of practice and work on perfecting controlled break play meant that when the chances came, he still had enough game left to get us across the line. Well done Keith!
The Nottingham club did a great job preparing the lawns and the extra work undertaken to move the hoops after day 3 was of great benefit to the event. Many thanks to everyone who helped cater/organise/ref/manage/clear up etc. Had the weather not been so unseasonally bad, conditions could have been very entertaining.
But, at the end of the day, GB won and that is what the record books will say. Congratulations to all the team - now go and crunch up some Aussies!!
There was a good report in the local press www.thisisnottingham.co.uk/sport/nerve-mallets-Test-croquet-Nottingham/article-2533357-detail/article.html
Full details on the Mac website www.macrobertsonshield2010.org/ where you can follow the test at Surbiton.
---