GB poised to take the title?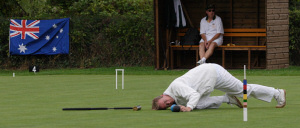 Ian Lines (GB) pegging out as Kevin Beard (Aus) looks on (Photo: Samir Patel)
by Dave Kibble
21st August 2010 (
The MacRobertson Shield
)
The final pair of test matches for the MacRobertson Shield continue at Surbiton today, Saturday 21st. Spectators are welcome and admitted free of charge on what could be the deciding day in both tests. There will be three doubles matches between Great Britain and Australia starting at 10AM and six singles, two with a later start, between the United States and New Zealand.
It was a good day for the Brits and the Kiwis yesterday. GB won five of their six singles matches and now lead Australia 8-4. If GB win all 3 doubles today they will win the Test and so retain the MacRobertson Shield for the seventh time in a row.
In parallel, New Zealand made a clean sweep of their doubles taking all 3 matches from the USA to give them a commanding lead of 10-2. They need only one match from the six singles to win that Test.
Full details on the Mac website www.macrobertsonshield2010.org/commentary where you can follow the test at Surbiton.
---