Nottingham beat Surbiton 5-4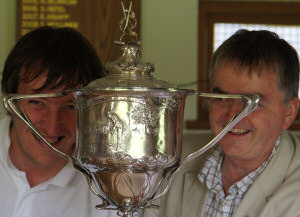 James Death and Keith Aiton of Nottingham celebrate with the Beddow Cup (Photo: Samir Patel)
by George Noble at Surbiton
3 October 2010 (
AC - Inter-Club
)
Nottingham first
Paddy Chapman bt Samir Patel +17SXP
James Death bt Stephen Mulliner +13OTP
Keith Aiton bt Tim Wilkins +13TPO
Richard White lost to Chris Farthing -2TP
Paddy Chapman lost to Stephen Mulliner -5
James Death lost to Samir Patel -12TPO
Keith Aiton lost to Chris Farthing -24TP
Richard White bt Tim Wilkins +3TP
Paddy Chapman and James Death bt Stephen Mulliner and Samir Patel +14OTP (M)
Report by Stephen Mulliner
Nottingham won an exciting Inter-Club final which had some dramatic fluctuations. In view of the poor weather outlook, it was agreed to play two rounds of four singles and only play the doubles if necessary.
Round 1
Surbiton made the brighter start with only Death taking a ball round first.
Patel, Farthing and Wilkins were all first to 4-b in their games but all three lifts were hit by Chapman, White and Aiton respectively. Paddy Chapman had a smidgeon of luck in that he hit the inner ball of a defensive NSL leave but picked up the break after Samir missed a 20 yarder and completed a good sextuple after Samir missed the tea-lady by a millimetre. Keith Aiton completed a TPO against Tim and took a 3-ball break round shortly afterwards. James Death's sextuple attempt against Mulliner came to grief when he misapproached 1-back with three peels completed. Stephen missed a 10 yarder but James ran 1-b and missed a 20 yarder to hand the innings. Stephen completed the TPO and James failed to get going off the contact. Stephen failed an angled 2 with a 3-ball break set and James finished off, courtesy of an exquisite pass roll approach to 3-back from 2 feet S of 4-b.
This left Nottingham 3-0 up and looking like 4-0 as Richard White had just a straight rover peel to complete. However, his ball ran rover by nothing and he missed an awkward little roquet on the escape ball. Chris Farthing made no mistake with this unexpected opportunity and finished his own triple to give Surbiton a flicker of hope at 3-1.
Round 2
James hit not one but two 20 yarders in picking up a break on turn 3 against Samir and went to 4-back with a spread. Samir hit, POPed and TPOd with one ball in C1 and the other on the E boundary 7 yards N of C4. James took contact from the C1 ball, split it to 3 while going to the E boundary ball.However, he fell 6 yards short and missed. Samir took the proffered northwards rush and finished. 3-2.
Chris Farthing had a relatively bloodless triple against Keith Aiton. 3-3.
Paddy laid up for a sextuple but Stephen hit and laid up for one himself. Paddy missed but Stephen's sxp fell behind, got repaired but ended when a posthumous penult peel took no wire and went off the S boundary. Paddy not got his sxp underway but also fell behind and finished on peg and 4-b giving contact with a good leave. Paddy missed the two 30 yarders he was left and it was 4-3 to Surbiton.
Tim Wilkins had a delayed triple to clinch the tie 5-3 but was unable to get the peelee close enough to rover an ended up failing a difficult angled Irish peel. Richard took a ball to 4-b and, after Tim went between the balls of an extended double, completed a tidy triple to square the match at 4-4.
The Doubles was Now Required and the Summary is as Follows
James 3rd turn to 4-b with B, 3 ducks
Stephen hits with Y from A-baulk and TPOs Paddy gets going with K off the contact but fails 3 leaving Y (Stephen) 5yds N 4 and R (Samir) 3yds SSE 4.
Samir and Stephen consider the 8+ yarder for Samir's R at Y which gives Paddy a 6 yarder if missed and choose a more defensive approach. The shot for Stephen at Samir gives a juicy target for Paddy if missed. So...
Stephen plays Y to 5yds SW 1, almost wired from K Paddy takes close position at 3 Samir misses R at Y leaving no double from S boundary below 4 Paddy runs 3 to 4yds NNE 4, runs 4 by 2yds to get double, hits R and finishes.
The CA President, Quiller Barrett, presented the magnificent Beddow Cup to James Death. It was rather appropriate that both John Wheeler and Tom Anderson, the discoverers of the Beddow Cup in a Bedford antique shop over 30 years ago and, with their wives Judy and Pandora the generous donors of the cup to the CA, were present at Surbiton to support the Wrest Park team.
---