£202 raised in Breast Cancer Campaign One-Ball Heat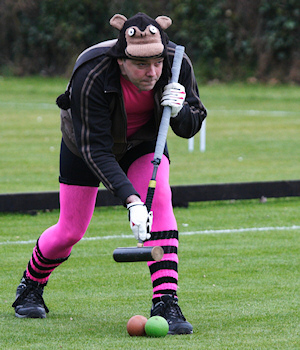 Chris Farthing in "his best pink outfit" in aid of the Breast Cancer Sports Challenge (Photo: Samir patel)
by Kevin Carter at Surbiton Croquet Club
6/02/2011 (
Other News
)
33 players contested the Surbiton Heat of the Charity One-Ball Championship, in aid of the Breast Cancer 'Sports Challenge'. Most took to heart the invitation to "wear something pink" and some went pink barmy!
As usual in these Winter One-Balls, the Cheyne brothers, Howard and Nick, started strongly, as did Hamptworth guests Richard and Diana Stevens. As lunch approached Nick fell away but the other three were joined by Martin Burger, Andy Dibben and Nick Parish. Six players all with just one loss was beginning to look like the manager's worst swiss nightmare, but one more round eliminated four of them, leaving Howard Cheyne and Richard Stevens, both on 6/7.
Howard had previously beaten Richard and therefore he was awarded to trophy, but in view of the large heat both were allowed free places in the final, at Winchester on 7th May. George Noble donated a bottle of pink English 'Champagne' for the "best pink outfit" and this went to Chris Farthing (pictured). It was doubly appropriate that Chris won this, since in his last game of the day he also performed an excellent second turn all-round break.
Including the receipts from afternoon bridge (won by Don Beck and Colin Dalziel), £202 was raised for the Breast Cancer Campaign.
---