Howard Cheyne won the Surbiton Easter Handicap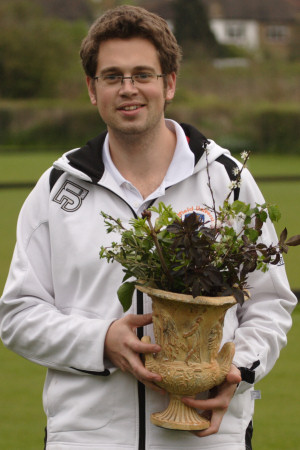 Howard Cheyne won the Surbiton Easter Handicap (Photo: Samir Patel)
by Samir Patel at Surbiton
23/04/2011 (
AC - Handicap
)
A hot, dry April combined with Surbiton's grounds maintenance regime produced some of the toughest conditions see at the Easter Handicap for some time. Hoops were solid, and the ground hard and dry.
Several players struggled with the conditions, which saw 12.5 plummer lawns combined with 28 degree unbroken sunshine. Although few games went to time, many got close, resulting in an average of just over 5 games each.
The top players coped better than many, with the first TP of the season in a game between two -2 handicaps, but Howard Cheyne kept plugging away, and even when his bisques deserted him, his hitting and hoop running got him out of trouble and saw him win the trophy for the second time.
Final Standings
100% Howard Cheyne
83% Samir Patel
80% Nick Cheyne
71% Jeff Dawson
66% Gary Bennett
66% Lucy Beach
60% Andy Dibben
60% Chris Farthing
60% Sam Murray
60% Martin Pulsford
60% Bob Prichard
50% Graham Brightwell
50% Chas Fellows
50% Ray Hall
50% Michael Hampson
42% Nigel Polhill
40% Margaret Hampson
40% Mike Lambert
40% Ian Plummer
40% Quiller Barrett
40% Pat Jackson
40% Richard Jackson
25% Nigel Graves
25% Carole McLoughlin
20% John Culhane
20% Philip Hellen
0% Janet Overell
0% Stephen Harbron
Full Results
1. Martin Pulsford beat Ray Hall +9(t)
2. Quiller Barrett beat Janet Overell +16
3. Samir Patel beat Philip Hellen +20
4. Jeff Dawson beat Mike Lambert +6
5. Gary Bennett beat Michael Hampson +9
6. Bob Prichard beat Richard Jackson +8(t)
7. Sam Murray beat Graham Brightwell +24
8. Chris Farthing beat Andy Dibben +12
9. Lucy Beach beat Nigel Graves +10
10. Ian Plummer beat Carole McLoughlin +7(t)
11. Margaret Hampson beat Chas Fellows +13
12. Nick Cheyne beat Stephen Harbron +18
13. Howard Cheyne beat John Culhane +26
14. Pat Jackson beat Nigel Polhill +24
15. Philip Hellen beat John Culhane +4
16. Howard Cheyne beat Pat Jackson +19
17. Mike Lambert beat Nigel Polhill +13
18. Graham Brightwell beat Andy Dibben +17
19. Samir Patel beat Jeff Dawson +26 TP
20. Chris Farthing beat Sam Murray +10
21. Michael Hampson beat Stephen Harbron +13
22. Gary Bennett beat Nick Cheyne +4
23. Samir Patel beat Margaret Hampson +23
24. Jeff Dawson beat Martin Pulsford +14
25. Ian Plummer beat Quiller Barrett +12
26. Bob Prichard beat Lucy Beach +11
27. Ray Hall beat Chas Fellows +1(t)
28. Carole McLoughlin beat Janet Overell +11
29. Richard Jackson beat Nigel Graves +1(t)
30. Howard Cheyne beat Chris Farthing +26
31. Sam Murray beat Pat Jackson +14
32. Margaret Hampson beat Philip Hellen +5
33. Andy Dibben beat John Culhane +6(t)
34. Graham Brightwell beat Nigel Polhill +26
35. Mike Lambert beat Martin Pulsford +2(t)
36. Gary Bennett beat Ian Plummer +6
37. Nick Cheyne beat Jeff Dawson +17
38. Howard Cheyne beat Samir Patel +25
39. Lucy Beach beat Quiller Barrett +19
40. Nigel Polhill beat Stephen Harbron +17
41. Howard Cheyne beat Bob Prichard +15
42. Chris Farthing beat Gary Bennett +5
43. Chas Fellows beat Janet Overell +9
44. Nigel Graves beat Stephen Harbron +4(t)
45. Ray Hall beat John Culhane +12(t)
46. Nick Cheyne beat Sam Murray +4
47. Samir Patel beat Lucy Beach +24
48. Richard Jackson beat Ian Plummer +2
49. Michael Hampson beat Carole McLoughlin +1(t)
50. Andy Dibben beat Nigel Polhill +11
51. Pat Jackson beat Quiller Barrett +1(t)
52. Jeff Dawson beat Margaret Hampson +16
53. Graham Brightwell beat Mike Lambert +20
54. Martin Pulsford beat Philip Hellen +4(t)
55. Lucy Beach beat Margaret Hampson +19(t)
56. Jeff Dawson beat Bob Prichard +13
57. Howard Cheyne beat Graham Brightwell +17
58. Andy Dibben beat Mike Lambert +2(t)
59. Samir Patel beat Chris Farthing +12
60. Nigel Polhill beat Janet Overell +16
61. Gary Bennett beat Richard Jackson +16
62. Chas Fellows beat Ian Plummer +13
63. John Culhane beat Stephen Harbron +3(t)
64. Nick Cheyne beat Ray Hall +17
65. Sam Murray beat Nigel Graves +1(t)
66. Quiller Barrett beat Philip Hellen +5(t)
67. Jeff Dawson beat Michael Hampson +18
68. Martin Pulsford beat Pat Jackson +5(t)
69. Bob Prichard beat Carole McLoughlin +8
70. Nigel Polhill beat Richard Jackson +16
71. Howard Cheyne beat Gary Bennett +17
72. Lucy Beach beat Graham Brightwell +21
---