Jackson's Jersey Open Tournament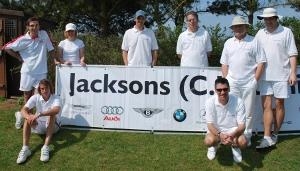 by David Maugham at Jersey Croquet Club
17 April 2011 (
AC
)
Results
Doubles
T Le Moignan & Maugham bt Hopgood & Griffiths +25, Cornelius & J Le Moignan +3, Burrow & Carter +13tpo
Hopgood & Griffiths bt Burrow & Carter +2, Cornelius & J Le Moignan +5
Burrow & Carter bt Cornelius & J Le Moignan +16
Singles
Maugham bt Cornelius +26tp +26tp
Burrow bt Griffiths +13 -17 +19stp
J Le Moignan bt Carter +13 -17tp +17tp
T Le Moignan bt Hopgood +21tp +17tp
Maugham bt Burrow +10otp +20
T Le Moignan bt J Le Moignan +5tpo +11tpo
Maugham v Le Moignan unf +10tpo in the first to TLM
Plate
Hopgood bt Cornelius +25tp
Cornelius bt Griffiths +1
Hopgood bt Carter +2
Burrow bt Cornelius +12tpo
Griffiths bt Hopgood +18
Report
by Tony Le Moignan
Brilliant weather accompanied the whole of the Jacksons Jersey Open, from Friday morning through to Sunday evening (15-17 April). The groundsmen did their best with the lawns but they were easy paced at best (10/11 tops). We've suffered from a leather jacket problem which could take until next season to entirely cure. Hoops were as solid as they can ever be, (in new holes) but the lawns are sand based. Gavin Carter did his best to make sure they were set as close to contact as poss, and this, combined with the Super Advanced format in both Singles and Doubles (alternate shot doubles) gave enough interaction to keep everyone happy/sad.
Only eight players this year (twice as many as last year!) but still nowhere near what Mangler Beast identified as the perfect number of 16 for this event. As previously reported, GBP200 of prize money to give away, free high quality polo shirts for all players (courtesy of Jacksons (C.I.) Ltd) and all for a GBP1.50 entry fee. Next year, if we're lucky enough to get sponsorship again, it may be that we'll knock the prize money on the head and just use the funds to go towards accommodation assistance.
It's always good to welcome someone to the Jersey Croquet Club for the first time, especially if they've never been to the Island before, and this year we had the pleasure of welcoming Debbie Cornelius. If anyone is thinking of playing in this event in future years, why not contact her to ask what she thought of the event? I think it will probably be a positive response as, within a day, Debbie had announced she'd like to retire over here!
Anyhow, enough faff and onto the play:
Alternate Shot Super Advanced Doubles (Ass Ad?!) was played on Friday, with randomly drawn partners, which turned out to be Debs and James Lemon ("Spring Onion"? - copyright Louise B, I think?), James Hoopgod and Richard Griffiths, Matthew B and Gavin C, and Beast & Lemon. All-play-all with only two games played after a late start and an early finish (for pub reasons - Goose on the Green). I don't have results but on Saturday morning Beast and Lemon beat Matt and Gav with a tpo which started with a 25yd 4b peel from Dave after H4 (which was nice) to finish unbeaten and share the fifty quid and the trophy. Alternate Shot Doubles is, IMHO, just great. I'd love to see it played as the regular form of dubs. Maybe one day it will? At the Counties?? At the Mac???
Onto Singles, with a straight b-of-3 Super-Advanced knockout format. A somewhat non-interactive 26tp, 26tp win for Dave over Debbie (I dunno how this was drawn, but it worked out that the top 4 ranked players (all in the top 30) played the other 4, so maybe that was it? - Beast will know), Lemon bt Hoppy +21tp, +17tp (at this stage I'll tell you that Hop was disappointed with the result of game 1, because he felt -21tp reflected that he'd broken down rather than had a planned leave after H5). Some kind soul pointed out that nobody would give a sh*t which, I think, may have placated him - Hoppy will know). Meanwhile, the other two quarters were going on a bit, with both going to the third. Matt eventually beat Richard +13, -9, +19tp, and James bt Gavin +13, -17tp, +17tp. Just time for a first game of the semis before going to an excellent (and quite messy) evening meal at The Boat House in St. Aubin's Village. Tony completed a TPO (yeah okay, I've given the result away by writing TPO) against his Nipper before pegging down, and seven of the eight players then left for St. Aubins, with Dave's clip on 4b and Matt starting out on a turn of his own. Much later, Matt arrived at the dinner table to inform that Beast only had one ball (it was that type of night).
a few hours later..........
With freshly mown lawns, far too bright a sun and Nurofen aplenty, play resumed at some ungodly hour (10ish) with Dave winning the first +10otp, and Tony eventually beating James +5tpo. Both games ended after lunch, with Dave taking the 2nd +17 (he thinks, but he'll confirm soon enough) and Tony sending James for an early swim/surf in St. Ouen's Bay with a +11tpo.
The final (for £150) started after a scrummy home made cakes thingy (courtesy of Matthew's gran, Doreen) at about 3.20. Dave and Tony agreed that they'd "see how things go", but it was going to be a best of 3 and, with Super Advanced, was liable to remain unfinished (welllll, SA is more interactive, promotes more Riggles, etc etc......) Anyhow, Tony won the first +10tpo (see?!), the clock struck 5.27, and Dave came up with the rather excellent plan of suggesting that the Treasurer gave both finalists seventy five quid each, and when they continued the final next year, the loser could eventually give the winner £25. Job's a goodun.
The best question of the tournament came from Debbie, when she asked if, were a player to go round all three lift hoops before his other ball had gone through H4, he would give away a "Super Contact"? There was then some communal tweaking (as indeed there was at the Boat House on Saturday evening, but you'll have to ask Hoppy or Matt for further details...) and the suggestion of "Super Lift" arose. This was an excellent idea and should be used as from now - "Lift to position" is just crap compared to that.
So there it is - the 2011 Jacksons Jersey Open - home of potentially the world's longest match.
Anyone even vaguely interested in coming over for next year's event, please contact me for further details.
---