England won the Home Internationals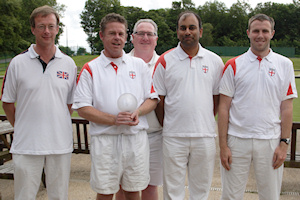 Ian Lines, David Maugham, Dave Kibble, Samir Patel, Marcus Evans (Photo: Liz Williams)
by Ian Lines at Heaton Park
19/06/2011 (
International
)
England completed a run of 11 consecutive victories at the 32nd Home Internationals between England, Ireland, Scotland and Wales, which took place 18-19 June at Heaton Park. Each player played a best-of-three against each of their equivalent players in the other teams.
1st England (3 match wins)
2nd Ireland (2 match wins)
3rd Scotland (1 match win)
4th Wales (no match wins)
Many thanks to Bury Croquet Club for kindly hosting the event at Heaton Park. Thank you particularly to Pat and her team of helpers for all the excellent catering, and to Barbara and Geoff Young for organising everything over the weekend, and to Paul Rigge for setting the hoops, and for providing the bacon butties.
Teams(alphabetical Order)
England
Marcus Evans
Dave Kibble
David Maugham (C)
Ian Lines
Samir Patel
Ireland
Ed Cunningham
Patsy Fitzgerald
Andrew Johnston
Kieran Murphy
Simon Williams
Scotland
James Hopgood
David Magee
Campbell Morrison
Martin Murray
Martin Stephenson
Wales
Ian Burridge (C)
John Evans
Garry McElwain
David Walters
Chris Williams
Full Results
England vs. Ireland
David Maughan (-2) beat Andrew Johnston (-2) +26tp. +22tp
Ian Lines (-2) beat Simon Williams (-1.5) +26tp, +4
Samir Patel (-2.5) lost to Patsy Fitzgerald (-1.5) -17tp, -17tp
Marcus Evans (-1.5) lost to Ed Cunningham (-1.5) -12tp, -20
David Kibble (-0.5) beat Kieran Murphy (-0.5) +16, -26tp, +24tp
England won 3-2
Scotland vs. Wales
James Hopgood (-1.5) beat Ian Burridge (-1.5) +26tp, +26
Martin Murray (-1) beat David Walters (-1.5) +25, +24tp
Campbell Morrison (-0.5) lost to Chris Williams (-1.5) +14, -26tp, -5
David Magee (-1) lost to John Evans (-1.5) -21, -16
Martin Stephenson (+0.5) beat Garry McElwain (-0.5) +13, +26
Scotland won 3-2
England vs. Wales
David Maugham beat Ian Burridge +16tp, +19tp
Ian Lines beat David Walters +15, +6tp
Samir Patel beat Chris Williams -26, +23tp, +17
Marcus Evans beat John Evans +23tp, +17
David Kibble lost to Garry McElwain -17, -12
England won 4-1
Ireland vs. Scotland
Andrew Johnston lost to James Hopgood -26tp, +11tp, -17
Simon Williams beat martin Murray +17tp, +11tpo
Patsy Fitzgerald lost to Campbell Morrison +19tp, -26, -17tp
Ed Cunningham beat David Magee +25, -24, +17tp
Kieran Murphy beat Martin Stephenson +26, +19
Ireland won 3-2
England vs. Scotland
David Maugham beat James Hopgood +17tp, +26tp
Ian Lines lost to Martin Murray -16tp, -17tp
Samir Patel beat Campbell Morrison +25tp, +17tp
Marcus E vans beat David Magee -1, +14, +26tp
David Kibble beat Martin Stephenson +26tp, +17
England won 4-1
Ireland vs. Wales
Andrew Johnston beat Ian Burridge +10, +17tp
Simon Williams beat David Walters +26tp, +16tp
Patsy Fitzgerald lost to Chris Williams -16, -25tp
Ed Cunningham beat John Evans +26tp, +26stp
Kieran Murphy beat Garry McElwain +26tp, +26tp
Ireland won 4-1
Click here for further records about the Home Internationals
---