Mark Avery won the Prichard Weekend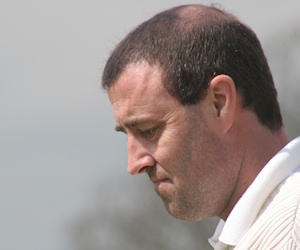 Mark Avery (Photo: Samir Patel)
by Nick Harris at Hunstanton Croquet Club
2 May 2011 (
AC
)
Mark Avery won the Prichard Weekend on 2 May 2011
This year's Prichard saw many of the usual faces returning to the challenge of Hunstonic winds. Fortunately the sun shone most of the time but it was still chilly, if not cold, but more players survived to the end this year than last! If you are coming next year remember to pack some warm and windproof gear. Handicaps ranged from -2 to 6 and with wind and "French" firmtight hoops there was plenty of interactivity. The WCF Secretary General was ROT and also put up a very nice Tournament Regulations Notice.
In the upper echelons, Jeff Race - who also mowed the lawns before play on Monday ( thankyou ) played as many games as Mark Avery (10 - only 10!! But then Mark did do a 10K run in Kings Lynn on the Sunday Morning) but despite beating both him and Martin French, Jeff had 3 losses which put him behind Mark and Keith Aiton (who unfortunately had to leave at lunch on Monday leaving Mark in contention). Last year's revelation Nick Steiner, now 2.5, was eclipsed by Brian Saddington who started at 4.5 but had only one loss up to Monday afternoon so played a final on the only lawn that afforded any shelter for the spectators (lawn 2) against Mark, to whom he succumbed. Mark Avery was allowed to take the Trophy home this time.
With games put on whenever players wanted to play over the three days, Beer that lasts till Monday and sunshine and good food it was another classic Prichard.
---